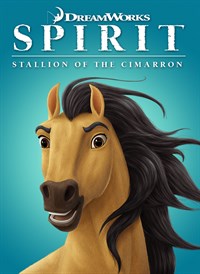 Spirit: Stallion of the Cimarron
Spirit, a young mustang (Matt Damon), sets out on an emotional adventure across the majestic American wilderness to regain his freedom and save his homeland.
Once you select Rent you'll have 14 days to start watching the movie and 24 hours to finish it.
Spirit: Stallion of the Cimarron
Available on
Xbox One
HoloLens
PC
Mobile device
Xbox 360
Description
Spirit, a young mustang (Matt Damon), sets out on across the majestic wilderness to regain his freedom and save his homeland. Along the way, he forms a friendship with a young Lakota brave, outwits a squadron of soldiers, and ultimately, finds love. With original music written and sung by Bryan Adams, Spirit: Stallion of the Cimarron will touch your heart and bring you to the edge of your seat.
Additional information
Age rating
Size
4.9 GB (1080p HD)
2.32 GB (720p HD)
1.74 GB (SD)
Size
4.9 GB (1080p HD)
2.32 GB (720p HD)
1.74 GB (SD)
| | |
| --- | --- |
| Windows | Windows 8, Windows 8.1, Windows 10 or later |
| Xbox | Xbox 360, Xbox One, Xbox One S, Xbox One X |
| Mobile | Windows Phone 8, Windows Phone 8.1, Windows 10 or later |

Tomatometer®
Audience
Variety

6/11/2008 by Todd McCarthy

---

There's nothing thrilling or new about the work here, but accomplished it is.

Denver Post

12/26/2007 by Michael Booth

---

Spirit is smarter than your average cartoon because it doesn't try to joke around with a host of annoying talking animals.

Time Out

6/24/2006 by Derek Adams

---

There's not much of a story, the whole thing's a bit superficial, and there's little to laugh at, but it's still a refreshing change from the norm.

Atlanta Journal-Constitution

11/4/2002 by Eleanor Ringel Cater

---

An exciting and exquisitely rendered film in which the horse goes through as many adventures and perils as Indiana Jones on a good day.

Chicago Tribune

7/20/2002 by Loren King

---

A welcome family film that extols noble values and offers first-class animation.

L.A. Weekly

6/1/2002 by Hazel-Dawn Dumpert

---

Rather exciting, rendered in a bright sunset palette and a mixture of expressive, boldly drawn traditional animation and fluid computer-generated imagery.

Detroit News

5/24/2002 by Susan Stark

---

As animation increasingly emphasizes the computer and the cool, this is a film that takes a stand in favor of tradition and warmth.

Washington Post

5/24/2002 by Desson Thomson

---

The movie's big action scenes ... make you forget you're even watching animation.

Washington Post

5/24/2002 by Jane Horwitz

---

A ripping yarn with memorable characters.

USA Today

5/24/2002 by Claudia Puig

---

A movie that will touch the hearts of both children and adults, as well as bring audiences to the edge of their seats.

Toronto Star

5/24/2002 by Daphne Gordon

---

It is perhaps Spirit's greatest achievement that the horses upstage the human actors, but it's also its greatest weakness. The human characters have no depth or personality, but are rather completely forgettable, stiff stereotypes.

Seattle Times

5/24/2002 by Tom Keogh

---

Adams' hoarse anthems become a betrayal of this horse opera's true potential; fortunately, there is enough fine achievement here to make the film worth seeing.

San Francisco Chronicle

5/24/2002 by Mick LaSalle

---

A mishmash that is sometimes moving, sometimes absurd and most of the time just oddly off balance.

Philadelphia Inquirer

5/24/2002 by Steven Rea

---

A cartoon that's truly cinematic in scope, and a story that's compelling and heartfelt -- even if the heart belongs to a big, four-legged herbivore.

Newsday

5/24/2002 by Gene Seymour

---

Not quite as miraculous as its DreamWorks makers would have you believe, but it more than adequately fills the eyes and stirs the emotions.

Miami Herald

5/24/2002 by Rene Rodriguez

---

A beautifully rendered but unimaginatively plotted cartoon about settlers, Native Americans and the horses caught in between.

Globe and Mail

5/24/2002 by Ray Conlogue

---

A strange, often intriguing animated film for children and young adults that takes a lot of chances and only occasionally stumbles.

Detroit Free Press

5/24/2002 by Terry Lawson

---

Spirit combines the hand-drawn artfulness of 2-D with computer-generated 3-D backdrops and effects so seamlessly that it's hard to tell what was done by man, what by mouse.

Chicago Sun-Times

5/24/2002 by Roger Ebert

---

Uncluttered by comic supporting characters and cute sidekicks, Spirit is more pure and direct than most of the stories we see in animation -- a fable I suspect younger viewers will strongly identify with.
Showing 1-10 out of 1 reviews
Sort by:
Sort by: Most helpful
Most helpful

Most recent

Highest rated

Lowest rated
Filter by:
Filter by: All ratings
All ratings

5 stars

4 stars

3 stars

2 stars

1 star
55User Rating: 5 out of 5
Review title of JOE1544

Great all-around movie that takes the cake!!

Best MOVIE ever!!!!!!!!!!!!!!!!!!

2 out of 2 people found this helpful.
Portions of content provided by Tivo Corporation - © 2019 Tivo Corporation