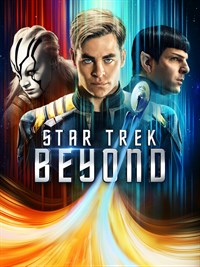 On a rescue mission, the USS Enterprise is attacked by Krall, a warlord sworn against the Federation. Crashed on an uncharted world, the crew must join forces with Jaylah, a rebellious alien warrior, to escape and stop Krall from triggering all-out war.
Once you select Rent you'll have 14 days to start watching the movie and 24 hours to finish it.
Available on
Xbox One
HoloLens
PC
Mobile device
Xbox 360
Description
From Director Justin Lin and Producer J.J. Abrams comes one of the best-reviewed action movies of the year. Dispatched on a rescue mission to the farthest reaches of space, the USS Enterprise is ambushed by Krall, a ruthless enemy sworn against the Federation. Crash-landing on an uncharted hostile world, Captain Kirk, Spock and the crew are separated with no means of escape. Only Jaylah, a rebellious alien warrior, can help them reunite and find a way off the planet in a race against time to stop Krall's deadly army from triggering all-out galactic war.
Additional information
Age rating
Genres
Action/Adventure
Drama
Sci-Fi/Fantasy
Genres
Action/Adventure
Drama
Sci-Fi/Fantasy
Writers
Simon Pegg
Doug Jung
Size
7.01 GB (1080p HD)
4.45 GB (720p HD)
3.6 GB (SD)
Size
7.01 GB (1080p HD)
4.45 GB (720p HD)
3.6 GB (SD)
| | |
| --- | --- |
| Windows | Windows 8, Windows 8.1, Windows 10 or later |
| Xbox | Xbox 360, Xbox One, Xbox One S, Xbox One X |
| Mobile | Windows Phone 8, Windows Phone 8.1, Windows 10 or later |
| UHD | Xbox One S or Xbox One X with a connection to a 4K television over HDMI 2.0a with support for HDCP 2.2. An HDR-capable television is required to view in High Dynamic Range. |

Tomatometer®
Audience
Salon.com

7/26/2016 by Nico Lang

---

"Beyond" is undoubtedly messy, like a Starfleet ship that's taken its fair share of beatings, but it is frequently a reminder of how good the series can be when all its engines are in working order.

Chicago Reader

7/22/2016 by J. R. Jones

---

This third installment in the millennial Star Trek reboot races along without an idea in its head, often recalling the silly, monster-driven final season of the 60s TV show.

AV Club

7/22/2016 by Ignatiy Vishnevetsky

---

The movie bounces along, hurtling its heroes over colliding wreckage and into currents of artificial gravity, pausing just long enough for a punchline or a knowing exchange of looks.

Rolling Stone

7/22/2016 by Peter Travers

---

Come to 'Star Trek Beyond' for the pow; stay for the emotional wipeout.

The New Republic

7/22/2016 by Tim Grierson

---

Lin and his cast's clear affection for the material helps temper the familiarity. The Enterprise's mission was to explore strange new worlds. This movie's is to give us a smooth ride.

New Yorker

7/22/2016 by Anthony Lane

---

It's not just a blast but, at moments, a thing of beauty, alive to the comic awesomeness of being lost in space.

ReelViews

7/22/2016 by James Berardinelli

---

Star Trek Beyond is a Star Trek movie, although not an especially good one.

Christian Science Monitor

7/22/2016 by Peter Rainer

---

The actors work so well together that they reinforce the series' central appeal: This crew is like family.

RogerEbert.com

7/22/2016 by Matt Zoller Seitz

---

The movie never delivers on its considerable promise because it's always in such a hurry to get to the next action scene.

The Atlantic

7/22/2016 by David Sims

---

It's exactly the kind of fun, steeped in effervescent goodwill that Hollywood should be delivering right now.

Detroit News

7/22/2016 by Adam Graham

---

Lin's flashy sense of stylized grit is lost in a sea of sci-fi noise as "Beyond" becomes a monotonous blur of space babble and battles.

MTV

7/22/2016 by Amy Nicholson

---

Beyond doesn't have the tactile crash-smash thrill of Vin Diesel gunning a Charger. It's more like that dumb gag in Furious 7 when cars skydive from a plane.

Tribune News Service

7/21/2016 by Katie Walsh

---

Everything you want a post-modern "Trek" movie to be: funny, poppy, self-referential -- and with Captain Kirk punching bad guys in rubber masks.

Los Angeles Times

7/21/2016 by Kenneth Turan

---

The fact that the result is serviceable, delivering enough value to be worth a fan's time, is about as good as one could reasonably expect.

Wall Street Journal

7/21/2016 by Joe Morgenstern

---

"Star Trek Beyond" is better than not-bad. By any earthly standard it's good.

Toronto Star

7/21/2016 by Bruce DeMara

---

Sci-fi fans will surely see beyond any shortcomings and appreciate a film full of visual dazzle, action and suspense.

San Diego Reader

7/21/2016 by Matthew Lickona

---

Justin Lin has taken over the helm from J.J. Abrams, but he's not about to change course, at least as far as reusing old material goes.

Philadelphia Inquirer

7/21/2016 by Steven Rea

---

There is plenty in Star Trek Beyond for diehard Trekkers to enjoy, and director Justin Lin guns the action sequences - even if that motocross machine that Kirk is ostensibly riding looks totally fake and video-game-ish.

CNN.com

7/21/2016 by Brian Lowry

---

Granted, with all the galaxies at its disposal, and yet another TV series in dry dock, one might hope for a Star Trek movie with a bit more narrative heft. But in terms of delivering solid entertainment for its devoted base? Mission accomplished.

Seattle Times

7/21/2016 by Soren Andersen

---

The pattern for these pictures has been set for decades, and this latest entry in the series breaks little new ground.
No one's rated or reviewed this product yet.
Portions of content provided by Tivo Corporation - © 2019 Tivo Corporation