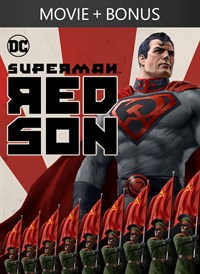 Description
When Krypton's last son crash-lands in Cold War-era Russia instead of rural Kansas, an alternate reality unfolds in this DC Elseworlds adventure. Here, we find Superman spearheading a Communist campaign to advance the ideologies of the Soviet state. Meanwhile, across the Atlantic, brilliant American scientist Lex Luthor devises a plan to rein in, and ultimately destroy, the alien Soviet threat. What follows is a gripping game of cat and mouse that will leave all of humanity hanging in the balance.
Bonus content
Superman Red Son: Motion Comics
A Sneak Peek at DC Universe's Next Animated Movie, "Justice League Dark: Apokolips War"
DC Showcase: Phantom Stranger
A Preview of "Batman: Gotham By Gaslight"
A Preview of "The Death of Superman"
Additional information
Writers
J.M. Dematteis
J.M. Dematteis
Size
4.72 GB (1080p HD)
2.96 GB (720p HD)
2.37 GB (SD)