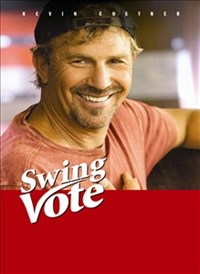 Tomatometer®
Audience
CNN.com

10/18/2008 by Tom Charity

It's a sentiment Capra might well have echoed, though he would surely have punched up the gags while he was at it.

Time Out

9/26/2008 by Wally Hammond

He shoots simultaneously for 'wake up, America!' inspiration and good ol' boy charm but ends up putting both barrels through his own cowboy-booted foot.

Ebert & Roeper

8/4/2008 by Richard Roeper

Not a bad movie, probably OK to rent on DVD, but I'm saying don't rush to the theaters.

The New Republic

8/2/2008 by Christopher Orr

It is neither appreciably better nor dramatically worse than its hokey, please-describe-me-as-'Capraesque' premise.

USA Today

8/1/2008 by Claudia Puig

One minute you're laughing at its sendup of the political process, and the next you're stricken by the sorry state of the sweet and brainy protagonist's family.

New York Times

8/1/2008 by Manohla Dargis

One of the most surprising, politically suggestive movies to come out of Hollywood this year.

Toronto Star

8/1/2008 by Linda Barnard

As often happens with politics, even as Swing Vote entertains, it leaves us feeling like we've been subjected to some slick manipulation and worse, left with promises unfulfilled.

Seattle Times

8/1/2008 by Moira MacDonald

Swing Vote, an oddly off-balance comedy directed by Joshua Michael Stern, feels like two movies; one much better than the other.

San Francisco Chronicle

8/1/2008 by Mick LaSalle

The mix of comedy and drama is winning; Costner couldn't be better, and the little girl is a find.

Salon.com

8/1/2008 by Stephanie Zacharek

Stern and his lead actor do manage to pull it all together at the end.

Orlando Sentinel

8/1/2008 by Roger Moore

Swing Vote nicely boils down America's political malaise to one man's awakening from a Budweiser stupor and seeing the only thing that matters when you don't pay attention and exercise the franchise on Election Day: You're letting your kid down.

New York Post

8/1/2008 by Lou Lumenick

This would-be civics lesson is such an appalling view of American democracy that it could be used as a recruiting film by al Qaeda.

New York Daily News

8/1/2008 by Joe Neumaier

The lightweight Swing Vote is a good-ol'-boy civics lesson that's too scattered to achieve its predictable goals.

Miami Herald

8/1/2008 by Connie Ogle

The film eventually bogs down in drama, with an unnecessary subplot involving Bud's estranged wife and an ethical dilemma for a local news reporter (Paula Patton) that never really gets off the ground.

Detroit News

8/1/2008 by Tom Long

Swing Vote is an amiable lug of a movie, part public service announcement, part political satire and part good-old-boy comedy with a spritz of sentiment hanging over the entire enterprise.

Christian Science Monitor

8/1/2008 by Peter Rainer

The filmmakers want to fashion a civics lesson but they don't bother to include anything of substance.

Chicago Reader

8/1/2008 by J. R. Jones

The undertones of Frank Capra come bubbling to the surface in a smarmy finale complete with French horn and bags of mail from the common folk.
No one's rated or reviewed this product yet.