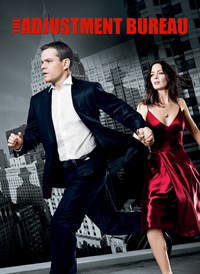 Tomatometer®
Audience
67 %
104,517 user reviews
TheWrap

10/7/2011 by Leah Rozen

Accomplished filmmaking that features two highly attractive, talented leads, a healthy dose of sentiment, an intelligent script, and which takes you away for two hours from the quotidian worries and banalities of your regular life.

indieWire

6/23/2011 by Leonard Maltin

Nolfi and his colleagues make especially good use of New York, filming everywhere from the Brooklyn waterfront to the lobby of the Museum of Modern Art. It's a fresh look at a familiar city. But Nolfi drops the ball in the home stretch, and that's...

USA Today

4/4/2011 by Claudia Puig

This mind-meld of sci-fi thriller, morality play and passionate romance is worth seeing, mostly for the palpable chemistry between the lead actors.

Newsday

3/19/2011 by Rafer Guzman

Damon and Blunt give such terrific performances you might almost forgive the movie's dopey ending.

Arizona Republic

3/9/2011 by Bill Goodykoontz

The on-screen pairing of Matt Damon and Emily Blunt is so winning that you may be willing to overlook the oddly modulating tone of the story that brings them together and then tries to keep them apart.

Newark Star-Ledger

3/4/2011 by Stephen Whitty

Fans looking for something a little different will find it here - as well as the first real romance of the year.

NPR

3/4/2011 by Jeannette Catsoulis

Cradled in Damon's solidly reliable hands, even a movie as extravagantly silly as this one gains heft and credibility, an impressive accomplishment when you consider that the entire plot revolves around magic notebooks and spellbinding hats.

Globe and Mail

3/4/2011 by Rick Groen

Sometimes, a strong premise makes for a weak movie, which ends up drowning in its own clever conceit.

Detroit News

3/4/2011 by Tom Long

It's hard to imagine a more spectacularly silly film making it to theaters this year than The Adjustment Bureau.

The Atlantic

3/4/2011 by Christopher Orr

The Adjustment Bureau presents itself as a paean to free will, to overcoming obstacles, to creating your own destiny-provided, that is, that you happen to be a dude.

Christian Science Monitor

3/4/2011 by Peter Rainer

Because the chemistry between Damon and Blunt is so strong, what might have been a jumble of Matrix-style oddments comes across instead as ardent.

Film.com

3/4/2011 by Laremy Legel

The Adjustment Bureau has you pondering the angles throughout, and it's a credit to newly minted director George Nolfi that he never lets his foot off the gas pedal.

New York Post

3/4/2011 by Lou Lumenick

The misleading trailers for the supremely goofy "The Adjustment Bureau" promise action-packed sci-fi. What you actually get is a love-struck Matt Damon running for the US Senate as he's stalked by fedora-wearing angels.

Washington Post

3/4/2011 by Ann Hornaday

A smart, stylish thriller that melds science fiction, romance and Hitchcock-ian intrigue with surprising ease.

Chicago Sun-Times

3/4/2011 by Roger Ebert

"The Adjustment Bureau" is a smart and good movie that could have been a great one if it had a little more daring.

St. Louis Post-Dispatch

3/4/2011 by Calvin Wilson

Suspenseful, romantic and wryly funny, "The Adjustment Bureau" is the kind of film that reaffirms one's faith in Hollywood.

San Francisco Chronicle

3/3/2011 by Mick LaSalle

Easily one of the best American love stories of the past year.

Salon.com

3/3/2011 by Andrew O'Hehir

You can feel the influence of classic American movies like "North by Northwest" and "The Graduate" here, and while I won't argue that Nolfi matches those examples, his ambition is admirable.

New York Times

3/3/2011 by Manohla Dargis

Whether running or kissing or running and kissing (well, almost), Mr. Damon and Ms. Blunt turn romance into a palpable race.

Dallas Morning News

3/3/2011 by Gary Dowell

A thoughtful and thought-provoking romance with a touch of the fantastic.
No one's rated or reviewed this product yet.