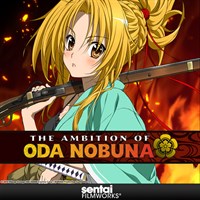 Available on
Xbox One
HoloLens
PC
Mobile device
Xbox 360
Description
Modern-day student Yoshiharu finds himself unexpectedly teleported back in time and smack dab in the middle of a battle. When a soldier sacrifices his life to save Yoshiharu, it's up to him to fulfill his dying wish. But Yoshiharu hasn't just gone back in time – he's gone to an entirely different timeline altogether! Here, the warriors of old are instead beautiful young women, and the legendary warlord Nobunaga Oda is now the voluptuous Nobuna Oda – and she wants Yoshiharu to serve at her side.
Episodes
2. Oda Clan Power Struggles
4. Winds of Change! Okehazama!
5. The Plan of the Genius Strategist
6. Sunomata Castle in a Night
7. Nobuna Advances on Kyoto
8. Golden Free City: Sakai
9. The Battle at Kiyomizudera
10. Nobuna in Grave Danger
11. The Retreat at Kanegasake
Additional information
Age rating
Genres
Action/Adventure
Anime
Comedy
Duration
12 episodes (5 h 16 min)