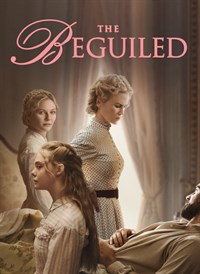 Tomatometer®
Audience
San Diego Reader

7/7/2017 by Matthew Lickona

The general view seems to be that civilization might survive and even flourish if men weren't around to wreck it with their making of love and war, but where's the fun in that?

Chicago Reader

7/7/2017 by Ben Sachs

The Beguiled is better directed than it is written... In its study of interpersonal rivalry and sexual tension, the film doesn't say anything that wasn't better articulated in Don Siegel's 1971 adaptation.

Globe and Mail

6/30/2017 by Julia Cooper

The Beguiled is Coppola's bloodiest, most visceral movie to date, and it is also one of her best.

Detroit News

6/30/2017 by Adam Graham

Fanning, Dunst and the on-a-roll Kidman all seem ready to dive in, but "The Beguiled" stops them short. There's plenty of cunning boiling beneath the surface, but Coppola keeps a tight lid on it.

Seattle Times

6/30/2017 by Moira MacDonald

The actors pitch their roles perfectly: Kidman's breathy calm; Farrell's charm, just hinting at something dark within it; Fanning's way of prettily arranging herself, showing off Alice's newfound power; Dunst's quiet melancholy.

Toronto Star

6/29/2017 by Peter Howell

The story is briskly told - it's 11 minutes shorter than Siegel's version - with good performances that alternately amuse, seduce and shock.

Toronto Sun

6/29/2017 by Liz Braun

The Beguiled works at a slow simmer and within the hothouse atmosphere painstakingly created by the filmmaker.

St. Louis Post-Dispatch

6/29/2017 by Calvin Wilson

Another big-screen adaptation of this story probably wasn't necessary. But as unnecessary films go, it's well worth a look.

Chicago Sun-Times

6/29/2017 by Richard Roeper

Of course, something's gotta give, and when it does, The Beguiled reminds us we haven't been watching a fairy tale all this time -- we've been watching a very fractured fairy tale.

Chicago Reader

6/29/2017 by J. R. Jones

This new adaptation by Sofia Coppola unfolds from a more feminine sensibility, and like her first and best feature, The Virgin Suicides, it sets out to expose the inner dynamics and frustrated sexuality of a small, mysterious cloister of women.

Minneapolis Star Tribune

6/29/2017 by Colin Covert

Modest in scale yet rousing in Southern Gothic psychodrama, Sofia Coppola's "The Beguiled" creates levels of excitement that bigger, longer, louder blockbusters can't match.

ReelViews

6/29/2017 by James Berardinelli

A near-miss that offers a captivating atmosphere and strong performances to go along with an uneven tone and a climax that's so overcooked that it bursts at the seams with unintentional humor.

Washington Post

6/29/2017 by Ann Hornaday

On its own terms, "The Beguiled" is a finely crafted, gemlike exercise in surface tension and subterranean stirrings.

Chicago Tribune

6/29/2017 by Michael Phillips

"The Beguiled" probably could've benefited from a little more energy in its telling. Still, Coppola offers some gorgeous images of the past made present.

Arizona Republic

6/29/2017 by Bill Goodykoontz

It's almost a dream world here, but nightmares are never far away.

Boston Globe

6/29/2017 by Ty Burr

"The Beguiled" is a solid and at times eerily subversive piece of work, but it shows that there may be limits to Sofia Coppola's ambition and her nerve.

New Yorker

6/26/2017 by Richard Brody

"The Beguiled," in its quasi-mathematical abstraction, amounts to little more than the baseline proof of [Coppola's] method-a reductio ad absurdum.

The Atlantic

6/25/2017 by David Sims

Each frame of The Beguiled is a wonder to look at, from the candle-lit dinner-time conferences to the angelic portraits of John, who's frequently bathed in heavenly light.

CNN.com

6/23/2017 by Brian Lowry

Writer-director Sofia Coppola has produced a small-scale movie that exalts old-fashioned movie-making qualities, yielding a refreshingly understated alternative to a sea of summer blockbusters.

Entertainment Weekly

6/23/2017 by Leah Greenblatt

Nearly every shot here is a visual symphony, all milky sunbeams shot through Spanish moss and white muslin flickering in candlelight.
No one's rated or reviewed this product yet.