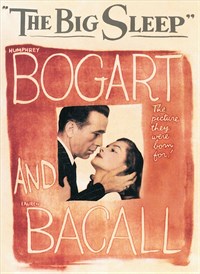 Tomatometer®
Audience
TIME Magazine

3/7/2014 by James Agee

The Big Sleep is wakeful fare for folks who don't care what is going on, or why, so long as the talk is hard and the action harder.

The New Republic

8/30/2012 by Manny Farber

The Big Sleep, though, is witty and sinister, and in an odd way is a realistic portrayal of big-city life with Arabian Nights overtones.

Variety

7/18/2008 by Variety Staff

Brittle Chandler characters have been transferred to the screen with punch by Howard Hawks' production and direction, providing full load of rough, tense action most of the way.

Chicago Reader

7/18/2008 by Dave Kehr

What you remember here are moments.

Time Out

6/24/2006 by Tom Huddleston

This is arguably the high-water mark of Hollywood's love affair with the infinitely slippery possibilities of the English language.

New York Times

5/20/2003 by Bosley Crowther

It's likely to leave you confused and dissatisfied.

Washington Post

1/22/2002 by Eric Brace

Don't try too hard to follow the story, just get swept away by the mood of the film.

Film.com

1/1/2000 by John Hartl

Fascinating if not necessarily improved edition of Howard Hawks' 1946 detective classic.

Chicago Sun-Times

1/1/2000 by Roger Ebert

It is typical of this most puzzling of films that no one agrees even on why it is so puzzling. Yet that has never affected The Big Sleep's enduring popularity, because the movie is about the process of a criminal investigation, not its results.

ReelViews

1/1/2000 by James Berardinelli

A movie that every film student should study and every movie lover should watch at least once.

El Pais (Spain)

2/6/2018 by Antonio Lara

The development is solid... with the almost constant presence of an ironic Humphrey Bogart, perfectly aware of his fullness as an actor. [Full review in Spanish]

Starburst

12/14/2017 by Iain Robertson

The Big Sleep remains one of the greatest film noirs ever made.

Monthly Film Bulletin

2/22/2017 by John Pym

The plethora of killings now seems on the whole less horrific than it once did, while the film's tone of escalating absurdity in a genuinely dark world grows if anything even more sprightly as the years go by.

Common Sense Media

10/4/2016 by Barbara Shulgasser

Classic noir gem has menace, innuendo.

Creative Loafing

2/27/2016 by Matt Brunson

"I don't like your manners." "I don't like them myself. They're pretty bad... I grieve over them on long winter evenings."

Daily Telegraph (UK)

8/13/2014 by Tim Robey

The Big Sleep is the best scripted, best directed, best acted, and least comprehensible film noir ever made.

Daily Telegraph (UK)

3/7/2014 by Sukhdev Sandhu

The plot is a bundle of confusions, but who cares? Few films have made cigarettes seem so glamorous. Or had such seductive repartee.

Independent (UK)

3/7/2014 by Jonathan Romney

The Big Sleep is as fresh and perverse as ever, and remains one of Hollywood's most entrancingly strange bedtime stories.

EmanuelLevy.Com

2/6/2013 by Emanuel Levy

Hawks' film noir remains legendary, despite complicated and convoluted plot, due to its star power and chemistry between Bogart and Bacall.

Observer (UK)

1/3/2011 by Philip French

It's unmissable, irresistible.
No one's rated or reviewed this product yet.