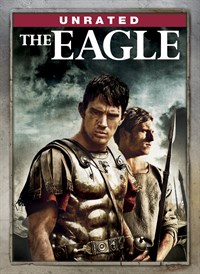 In 2nd-century Britain, a Roman soldier (Channing Tatum) embarks on a dangerous quest to restore the reputation of his father in this thrilling Unrated version not seen in theaters!
Once you select Rent you'll have 14 days to start watching the movie and 24 hours to finish it.
Available on
Xbox One
HoloLens
PC
Mobile device
Xbox 360
Description
From acclaimed director Kevin Macdonald comes a thrilling Unrated version of the adventure that's even more gripping, gritty, action-packed! In 2nd-Century Britain, celebrated Roman soldier Marcus Aquila (Channing Tatum) embarks on a dangerous quest to restore the tarnished reputation of his father and find the golden emblem that disappeared with him and thousands of troops twenty years earlier. But the highlands of Caledonia are a savage wilderness, and Marcus must rely on his embittered slave, Esca (Jamie Bell), to navigate the perilous region. Co-starring Donald Sutherland, it's a journey that tests the boundaries of loyalty and betrayal, friendship and hatred, deceit and heroism.
Additional information
Directors
Kevin Macdonald
Genres
Action/Adventure
Drama
Size
6.75 GB (1080p HD)
3.19 GB (720p HD)
2.4 GB (SD)
Size
6.75 GB (1080p HD)
3.19 GB (720p HD)
2.4 GB (SD)
| | |
| --- | --- |
| Windows | Windows 8, Windows 8.1, Windows 10 or later |
| Xbox | Xbox 360, Xbox One, Xbox One S, Xbox One X |
| Mobile | Windows Phone 8, Windows Phone 8.1, Windows 10 or later |

Tomatometer®
Audience
Time Out

3/23/2011 by Tom Huddleston

---

Best of all is Anthony Dod Mantle's breathtaking photography: the Scottish Highlands have never looked so eerily, threateningly beautiful.

New Yorker

2/22/2011 by Anthony Lane

---

The story sags in the middle, as our wanderers traipse through the highlands-not a happy environment for Tatum, who, before his journey even begins, looks all at sea in this distant age.

New York Magazine/Vulture

2/14/2011 by David Edelstein

---

Wild-eyed, long-haired Brits leap atop the Romans' shields as the soldiers blindly hack away, the bodies so close that you can barely tell the victor from the vanquished. The battles in the fog and rain have a hallucinatory power.

Christian Science Monitor

2/12/2011 by Peter Rainer

---

However you slice it, The Eagle is hokum, but modern-day Scots may get a kick out of the film's depiction of their ancestors as mud-caked hellions. Modern-day Romans will have to settle for less.

Denver Post

2/11/2011 by Lisa Kennedy

---

The latest sandals-and-swords outing, "The Eagle" has landed . . . with a thud.

St. Louis Post-Dispatch

2/11/2011 by Joe Williams

---

There's a predictable arc, as the two enemies have to overcome their mutual mistrust to survive.

Newark Star-Ledger

2/11/2011 by Stephen Whitty

---

It's even less interesting than "Centurion."

Associated Press

2/11/2011 by David Germain

---

It's hard to go along for the ride when the characters act more like statuary than people.

New York Post

2/11/2011 by Kyle Smith

---

A long slog through ancient muck, so-so sword fights and dumb luck.

Detroit News

2/11/2011 by Tom Long

---

Alas, from its scruffy period melodrama to its repetitious battles and endless cross-country shots, this film is all grandiosity with no real heft.

Washington Post

2/11/2011 by Stephanie Merry

---

Becomes absurd precisely when Channing Tatum marches onto the scene as a Roman army commander.

Globe and Mail

2/11/2011 by Stephen Cole

---

The Eagle makes for an okay parent-and-young-son film outing. But you'll want to get your youngster the Sutcliff paperback.

Film.com

2/11/2011 by Eric D. Snider

---

Less epic than Gladiator, less ridiculous than last year's Centurion, less homoerotic than Top Gun (but just barely), this is perfectly acceptable matinee fodder.

USA Today

2/10/2011 by Scott Bowles

---

Despite some breathtaking scenery and documentary-like realism, The Eagle ultimately falls to some surprising contrivances that seem written by focus groups.

Philadelphia Inquirer

2/10/2011 by Carrie Rickey

---

A muscularly entertaining adventure inspired by Rosemary Sutcliff's historical fiction The Eagle of the Ninth, hugely popular in middle schools in the mid-20th century.

Chicago Reader

2/10/2011 by Michael Wilmington

---

Exciting and even moving, this robust epic is filled with action, male bonding, and a terrifying sense of wilderness.

Houston Chronicle

2/10/2011 by Amy Biancolli

---

Anthony Dod Mantle's cinematography is kinetic when it needs to be, ruminative and pretty when it doesn't. It looks good.

Los Angeles Times

2/10/2011 by Sheri Linden

---

If this episodic quest still manages to feel too flat and mild, at least it gives us the mysterious Highlands and the Celtic dirge of Atli rvarsson's outstanding score.

New York Times

2/10/2011 by A.O. Scott

---

Lumbering along for a bit less than two hours, which passes like three, it feels more like a chore than like an adventure.

Minneapolis Star Tribune

2/10/2011 by Colin Covert

---

Channing Tatum plays Marcus Aquila with an earnest furrowed brow that could indicate gravitas or constipation.
No one's rated or reviewed this product yet.
Portions of content provided by Tivo Corporation - © 2019 Tivo Corporation