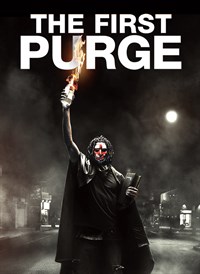 Blumhouse Productions welcomes you to the movement that began as a simple experiment in one isolated community, but spread across the nation: The First Purge.
Buy in any format for the same price
Bundles containing this item
Available on
Xbox One
HoloLens
PC
Mobile device
Xbox 360
Description
Blumhouse Productions welcomes you to the movement that began as a simple experiment: The First Purge. To push the crime rate below one percent for the rest of the year, the New Founding Fathers of America test a sociological theory that vents aggression for one night in one isolated community. But when the violence of oppressors meets the rage of the marginalized, the contagion will explode from the trial-city borders and spread across the nation.
Additional information
Directors
Gerard McMurray
Age rating
Size
5.3 GB (1080p HD)
2.82 GB (720p HD)
1.64 GB (SD)
Size
5.3 GB (1080p HD)
2.82 GB (720p HD)
1.64 GB (SD)
| | |
| --- | --- |
| Windows | Windows 8, Windows 8.1, Windows 10 or later |
| Xbox | Xbox 360, Xbox One, Xbox One S, Xbox One X |
| Mobile | Windows Phone 8, Windows Phone 8.1, Windows 10 or later |
| UHD | Xbox One S or Xbox One X with a connection to a 4K television over HDMI 2.0a with support for HDCP 2.2. An HDR-capable television is required to view in High Dynamic Range. |

Tomatometer®
Audience
What the Flick?!

7/6/2018 by Christy Lemire

---

It is surprisingly powerful and hard to watch.

Houston Chronicle

7/5/2018 by Cary Darling

---

Unfortunately, despite a strong start and some action-movie pleasures throughout, "The First Purge" is a little too heavy handed, routine and ridden with logic problems to make its points stick.

Village Voice

7/5/2018 by Bilge Ebiri

---

Yes, it's a sick idea, but with each passing year we seem to inch ever closer to feeling like we might one day have one of these things for real.

Washington Post

7/5/2018 by Alan Zilberman

---

An unabashedly violent B-movie throwback, the sort director John Carpenter used to make, with moments that resonate with real life.

Entertainment Weekly

7/5/2018 by Dana Schwartz

---

For the first two-thirds or so of the movie, the scares are lacking.

Toronto Star

7/5/2018 by Peter Howell

---

The most terrifying thought is that in both this fictional movie franchise and in real life, the worst is yet to come.

New York Magazine/Vulture

7/4/2018 by David Edelstein

---

God help me, I'm torn down the middle, but that exposed middle is where the horror genre plants its seeds.

Arizona Republic

7/4/2018 by Bill Goodykoontz

---

"The First Purge" follows the franchise tradition of taking what could have been an intriguing idea, stays with it for about the amount of time it takes to eat a small popcorn, then slices and dices it and guns it down in an orgy of over-the-top violence.

RogerEbert.com

7/4/2018 by Glenn Kenny

---

The social commentary portions of the movie are simplistic even by the low standards generally set by genre films.

Slate

7/4/2018 by Inkoo Kang

---

The First Purge largely succeeds in capturing the bewilderment many of us are feeling about America these days... I'd be hard-pressed to think of another movie this year that better conveys the disbelief that this what America has come to.

Associated Press

7/3/2018 by Mark Kennedy

---

But DeMonaco's signature hammy scriptwriting also rears its head. The characters are barely one-dimensional and prone to doing stupid stuff, like wandering out alone during a night of mayhem.

San Francisco Chronicle

7/3/2018 by Carla Meyer

---

Without ideologies at play, how is this "Purge" film different from the others? It isn't. It's interesting, then boring, then bad, like the rest.

AV Club

7/3/2018 by A.A. Dowd

---

Most horror movies channel contemporary anxieties. For a good hour and a half, this one at least tries to cathartically purge them.

Los Angeles Times

7/3/2018 by Mark Olsen

---

By delivering the story within the framework of genre cinema at its most trashy and garish, the filmmakers convey any message as a bit of rough pleasure amid the kicks and thrills of a movie.

indieWire

7/3/2018 by Karen Han

---

Maybe it was inevitable that the franchise would circle around so far that it'd begin to eat its own tail.

Rolling Stone

7/3/2018 by David Fear

---

Who needs a coherent text when you've got all this American carnage to watch?

Minneapolis Star Tribune

7/3/2018 by Colin Covert

---

Unless the next film in the franchise outdoes it, "The First Purge" will be the gold standard by which horror movies that were really bad ideas are judged.

ReelViews

7/3/2018 by James Berardinelli

---

It's competently made, delivers its share of thrills and edge-of-the-seat moments, and gives the audience an opportunity to stand up and cheer.

New York Times

7/3/2018 by Jeannette Catsoulis

---

The First Purge is firmly committed to the power of resistance, personified by a small band of locals who fight to protect their community.

Detroit News

7/3/2018 by Adam Graham

---

Director Gerard McMurray stages an effective game of cat and mouse and ramps up to an effective climax.
Ratings and reviews
Thanks. Your review will post soon.
There was an error posting your review. Please try again later.
---
All user reviews
Filter by:
Sort by:
A Wild and Crazy Ride
Ignore the ridiculous complaints about racism. Obviously, someone has projection issues, when they're complaining about the KKK and white people with black face showing up to do what they're known for doing. Anyway, this movie is actually a mix of the Wire, the Purge, some John Wick and perhaps even Die Hard. Yes, it's that crazy. It's not as good as the First 2 Purges (I haven't seen the 3rd), but it was a fun watch. There's some ridiculous animated blood during one outrageous segment, and some nonsense about "fighting back" at the end. Against who, I don't know. I guess the government? But that's just par for the course with a silly film like this. So just grab some popcorn, turn your brain off, and enjoy the ride.
Thank you for your feedback.
Sorry, something went wrong. Please try again.
Portions of content provided by Tivo Corporation - © 2019 Tivo Corporation