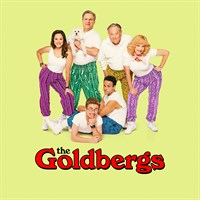 Description
Reagan was in the White House, the malls were filled with New Wave fashionistas and the Goldbergs were living large in the '80s. Documenting his hilariously combative, yet loving family with a video camera nearly as big as he is, 11-year-old geek Adam (Sean Giambrone) is witness to all kinds of insanity from his over-protective, over-the-top mom (Wendi McLendon-Covey), quick-tempered dad (Jeff Garlin), rebellious sister (Hayley Orrantia), high-strung brother (Troy Gentile) and super suave grandfather (George Segal).
Episodes
2. The Prettiest Boy In School
3. It's All About Comptrol
8. Bevy's Big Murder Mystery Party
12. The Lasagna You Deserve
17. Who's Afraid of Brea Bee?
Additional information
Duration
22 episodes (7 h 54 min)