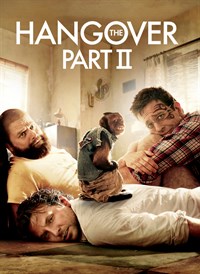 Tomatometer®
Audience
52 %
195,965 user reviews
indieWire

6/8/2011 by Leonard Maltin

Unless moviegoers themselves are willing to shoulder some of the blame, it's useless to try and figure out why The Hangover Part II is so bad. The film only exists because, after the hilarious 2009 movie broke box-office records for an R-rated comedy...

New Yorker

6/3/2011 by David Denby

The Hangover Part II isn't a dud, exactly -- some of it is very funny, and there are a few memorable jolts and outlandish dirty moments. But it feels, at times, like a routine adventure film set overseas.

The Atlantic

5/27/2011 by Christopher Orr

The missing person, the seamy urban setting, the gradual accretion of clues: The Hangover films are, essentially, hard-boiled crime stories spun into comic depravity.

Christian Science Monitor

5/27/2011 by Peter Rainer

I can't dismiss the ugliness behind many of its antics.

Wall Street Journal

5/27/2011 by Joe Morgenstern

I can't believe how precisely everything does happen again, except that what was fresh and surprising in Las Vegas turns rancid and predictable in Bangkok, where yet another wedding is scheduled to take place.

Slate

5/26/2011 by Dana Stevens

Directed, like the wildly successful first film, by Todd Phillips, it airlifts the original characters, premise, and story structure out of Vegas and plonks them down in Bangkok in near-identical form, save for a few instances of ante-upping.

Dallas Morning News

5/26/2011 by Tom Maurstad

It's a tribute to the filmmakers, particularly director and co-writer Todd Phillips, that the best way to approach The Hangover Part II is to talk about what it isn't. It isn't a typical sequel, either a watered-down encore or a muddled [extension].

Richard Roeper.com

5/26/2011 by Richard Roeper

One of the most uninspired and unoriginal sequels you'll ever see. Or not see, if you're lucky.

Salon.com

5/26/2011 by Andrew O'Hehir

Phillips and his co-writers, Craig Mazin and Scot Armstrong, seem to have launched into this project with a misguided faith in their own brilliance, but nothing resembling an idea or a story.

AV Club

5/26/2011 by Nathan Rabin

The filmmakers can't recapture the original's novelty or freshness, so they up the raunch level considerably; the matter-of-factness of the transsexual and gay-panic jokes is almost progressive.

Globe and Mail

5/26/2011 by Gayle MacDonald

The Hangover made the actors A-list Hollywood stars. But despite the indisputable talent of this cast, The Hangover Part II doesn't deliver the same zany punch of its predecessor.

Detroit News

5/26/2011 by Tom Long

Maybe what goes on in Vegas really should stay in Vegas.

San Francisco Chronicle

5/26/2011 by Mick LaSalle

Alas, this time there are about three or four mild laughs in the whole picture, and the entire visual aspect of the movie is a botched disappointment.

Rolling Stone

5/26/2011 by Peter Travers

Somebody must have roofied me. I left The Hangover Part II feeling dazed and abused, wondering how bad things happened to such a good comedy.

Newark Star-Ledger

5/26/2011 by Stephen Whitty

It feels a little bit like that fourth dirty martini - not a good idea at the time, and probably to be regretted later.

Los Angeles Times

5/26/2011 by Betsy Sharkey

Oh, what a headache-inducing, unapologetic money grab we have in "The Hangover Part II."

Philadelphia Inquirer

5/26/2011 by Carrie Rickey

While these characters were amusing the first time around, Phillips and his screenwriters don't bring much new to the party.

USA Today

5/26/2011 by Scott Bowles

For all the talent Hangover II reassembles, our boys just can't muster the hair of the dog that bit them the first time around.

Film.com

5/25/2011 by Eric D. Snider

If you want to avoid plot spoilers for The Hangover Part II, don't watch The Hangover.

NPR

5/25/2011 by Ian Buckwalter

The result is a cinematic illustration of the law of diminishing returns, in which more money, more exotic locales, more crazy situations and more Mike Tyson all fuel a familiar carnival of abasement.
No one's rated or reviewed this product yet.