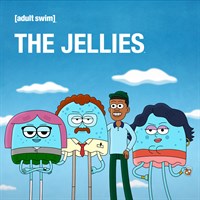 Available on
Xbox One
HoloLens
PC
Mobile device
Xbox 360
Description
The Jellies! is a quarter-hour animated series created by Tyler, The Creator and Lionel Boyce, that follows a family of jellyfish, including their 16-year-old human son, Cornell. When Cornell learns that he was adopted at birth, he is shocked by the news and spirals out of control as he tries to "find himself." The result is he, his family and friends continue to end up in uncanny situations.
Episodes
9. Walla Walla Wallabees B
10. My Friend Sheldon Jr.
Extra: Season 2 Sneak Peek
Additional information
Duration
10 episodes (1 h 51 min)