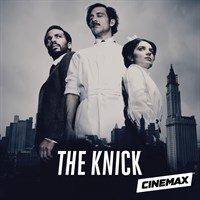 Available on
Xbox One
HoloLens
PC
Mobile device
Xbox 360
Description
A brilliant surgeon pushes the boundaries of medicine, morality and race relations at a New York City hospital at the turn of the 20th century in this Cinemax drama series. Throughout 10 episodes--all directed by filmmaker Steven Soderbergh--the show follows Dr. John Thackery (Oscar(R)-nominee Clive Owen) and his groundbreaking work at the Knickerbocker Hospital (a.k.a. "The Knick") which faces a major upheaval due to an exodus of affluent patrons, an infusion of poor patients, and gross mismanagement of its finances. As he searches to solve a plethora of medical mysteries and develops a cocaine habit, Thackery must deal with a variety of co-workers and patients, including driven new arrival, Dr. Algernon Edwards (Andre Holland) and the wealthy and influential Cornelia Robertson (Juliet Rylance). Also with Eric Johnson, Michael Angarano, Eve Hewson, Cara Seymour, Jeremy Bobb and Chris Sullivan.
Episodes
3. The Best with the Best to Get the Best
9. Do You Remember Moon Flower?
Extra: The Knick, Season 2: Trailer
Extra: The Knick, Season 2: Examination
Additional information
Duration
10 episodes (9 h 18 min)