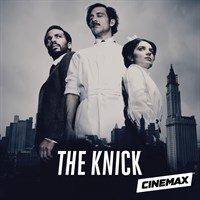 A series of misfortunes leaves the Knick facing a state of upheaval in Season 2 of Steven Soderbergh's Emmy®-nominated series. Clive Owen stars.
Buy season pass and get all current and future episodes of season 2
Available on
Xbox One
HoloLens
PC
Mobile device
Xbox 360
Description
A brilliant surgeon pushes the boundaries of medicine, morality and race relations at a New York City hospital at the turn of the 20th century in this Cinemax drama series. Throughout 10 episodes--all directed by filmmaker Steven Soderbergh--the show follows Dr. John Thackery (Oscar(R)-nominee Clive Owen) and his groundbreaking work at the Knickerbocker Hospital (a.k.a. "The Knick") which faces a major upheaval due to an exodus of affluent patrons, an infusion of poor patients, and gross mismanagement of its finances. As he searches to solve a plethora of medical mysteries and develops a cocaine habit, Thackery must deal with a variety of co-workers and patients, including driven new arrival, Dr. Algernon Edwards (Andre Holland) and the wealthy and influential Cornelia Robertson (Juliet Rylance). Also with Eric Johnson, Michael Angarano, Eve Hewson, Cara Seymour, Jeremy Bobb and Chris Sullivan.
Episodes
Ten Knots
Season 2, Episode 1 TV-MA CC HD CC SD
Season 2 Premiere. As Barrow and The Knick prepare to move uptown, Edwards lobbies the hospital board to be appointed permanent head of surgery. Though his suspension has been lifted, Gallinger refuses to return as Edwards' subordinate, so he heads to Cromartie Hospital in hopes of getting Thackery to return to work. Lucy's attempts to make amends with Bertie are rebuffed; Cleary schemes to make extra money; Ping Wu demands regular medical checkups for his prostitutes; Speight attempts to trace the origins of a new plague; Cornelia nourishes a quarantined neighborhood in San Francisco.
You're No Rose
Season 2, Episode 2 TV-MA CC HD CC SD
Thackery sets his sights on a return to The Knick--a request that doesn't sit well with the Board. After a shocking discovery, Cornelia enlists Cleary to do a dirty job, for a price. Bertie makes a change; Henry Robertson pushes a new subway initiative; Barrow drives up construction costs; Lucy is surprised by an unexpected visitor from home.
3. The Best with the Best to Get the Best
The Best with the Best to Get the Best
Season 2, Episode 3 TV-MA CC HD CC SD
Thackery enlists Edwards to help him test a new hypothesis. After rejecting Henry Robertson's advances at The Knick, Lucy learns that confession isn't always good for the soul. We meet Genevieve Everidge, a young journalist writing a story about a rival doctor. Cornelia is dismayed by the limits of Philip's sympathies; Barrow faces a new adversary at Tammany Hall; Gallinger is intrigued by a discussion of eugenics at a class reunion; Edwards deals with a surprise visitor.
Wonderful Surprises
Season 2, Episode 4 TV-MA CC HD CC SD
Abby's worsening condition persuades Thackery to test out his novel syphilis treatment. Algernon comes clean to Opal, but does not get the response he expects. Cleary makes a last-ditch effort to raise funds for Harriet as her date in court arrives. Bertie undergoes physical training; Barrow loses a sponsor; Gallinger's prejudices are reinforced; Cornelia probes a suspicious death; Lucy laments her lot in life.
Whiplash
Season 2, Episode 5 TV-MA CC HD CC SD
A subway explosion leads to an influx of patients at The Knick, but little margin for profit. Pursued by Henry, Lucy takes to heart some advice given by one of Ping Wu's girls. An addict's misfortune gives Thackery an ideal test case for his latest theory on addiction. Bertie submits his adrenalin research to Zinberg; Cornelia gets a new clue in Speight's death; Barrow repays a debt but gets no credit; Genevieve charms the Chickerings; Harriet finds herself a boarding-house pariah.
There Are Rules
Season 2, Episode 6 TV-MA CC HD CC SD
Faced with a quandary, Bertie decides to take matters into his own hands at Mt. Sinai, enlisting Algernon to help. Thackery investigates the efficacy of hypnosis, and takes an interest in a pair of conjoined twins. Lucy lobbies Henry for a gala invitation; Cornelia visits the brother of a deceased immigrant with ties to Speight; Gallinger dines with an unwelcome guest; Barrow previews a new home for Junia; Harriet agrees to make a change.
Williams and Walker
Season 2, Episode 7 TV-MA CC HD CC SD
Fighting his nerves, Thackery readies himself to attempt to separate Zoya and Nika in front of a packed audience. After getting a surprise gift from her father-in-law, Cornelia attends a gala charity ball for the new Knick with other familiar guests. Barrow gets rid of a threat; Opal spoils the Robertsons' good mood. Algernon gets a long-overdue spotlight in the surgical theater, but complications ensue.
Not Well At All
Season 2, Episode 8 TV-MA CC HD CC SD
After dealing with an unwanted intruder, Thackery faces the realities of his addiction research, and sets his sights on improving Abby's appearance. Algernon suspects foul play during his surgical debacle; Gallinger shuffles his family priorities; Barrow's social standing rises, at a cost; Lucy makes a shocking discovery; Cornelia shares unsettling news with Henry.
9. Do You Remember Moon Flower?
Do You Remember Moon Flower?
Season 2, Episode 9 TV-MA CC HD CC SD
Thackery's connection to Captain Robertson, and how the doctor arrived at the Knick, is revealed. The conflict between Algernon and Gallinger comes to a head after a medical-board hearing into the latter's vasectomies. Cleary and Harriet launch a joint-business venture; Lucy shares memories with her father; Barrow confronts the rising costs of living well; Cornelia and Henry weigh the cost of a family crisis.
This Is All We Are
Season 2, Episode 10 TV-MA CC HD CC SD
Season Two Finale. Thackery eschews Zinberg's advice at Mt. Sinai and opts for a dramatic, and risky, alternative course of action. Cornelia and Henry weigh their futures following an alarming family revelation; Barrow defends his actions at the hospital construction site; Gallinger considers a job opportunity; Cleary refuses to give up on Harriet.
Extra: The Knick, Season 2: Trailer
The Knick, Season 2: Trailer
Season 2, Extra TV-MA CC HD CC SD
The clock is ticking in this suspenseful peek at the surgical circus that continues in Season 2 of 'The Knick.'
Extra: The Knick, Season 2: Examination
The Knick, Season 2: Examination
Season 2, Extra TV-MA CC HD CC SD
Scrub in and prep for more mayhem at 'The Knick' in this preview of Season 2 featuring clips and interviews with the cast and crew.
Additional information
Age rating
Duration
10 episodes (9 h 18 min)
Duration
10 episodes (9 h 18 min)
| | |
| --- | --- |
| Windows | Windows 8, Windows 8.1, Windows 10 or later |
| Xbox | Xbox 360, Xbox One, Xbox One S, Xbox One X |
| Mobile | Windows Phone 8, Windows Phone 8.1, Windows 10 or later |
Ratings and reviews
No one's rated or reviewed this product yet.
Thanks. Your review will post soon.
There was an error posting your review. Please try again later.
Portions of content provided by Tivo Corporation - © 2019 Tivo Corporation