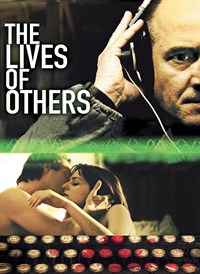 Tomatometer®
Audience
96 %
121,481 user reviews
ChristyLemire.com

8/23/2018 by Christy Lemire

The Lives of Others is exquisitely tense, with massive stakes and a pervasive sense of danger.

Chicago Sun-Times

9/21/2007 by Roger Ebert

The Lives of Others is a powerful but quiet film, constructed of hidden thoughts and secret desires.

Orlando Sentinel

3/16/2007 by Roger Moore

Florian Henckel von Donnersmarck's film is a melodrama in a minor key, quietly affecting, quietly chilling, quietly quiet. It captures the drab architecture of totalitarianism, the soul-dead buildings of a soul-dead state.

Houston Chronicle

3/2/2007 by Amy Biancolli

Its suspense builds on the fragile and nuanced business of emotional rebirth.

Detroit News

3/2/2007 by Tom Long

A political thriller that's consistently as inventive as it is creepy.

Detroit Free Press

3/2/2007 by Terry Lawson

Few would deny that The Lives of Others is true to its self, and in its depiction of human nature -- and human spirit.

RogerEbert.com

3/2/2007 by Jim Emerson

Watch it, and you may get the feeling it's also watching you.

Atlanta Journal-Constitution

3/1/2007 by Eleanor Ringel Cater

Poised between Kafka and Tom Cruise, The Lives of Others is the sort of movie that constantly engages you. You never know what's going to happen next, and it's all done with a precision and intelligence that's rare in movies these days.

Philadelphia Inquirer

2/23/2007 by Carrie Rickey

Of the many things that happen in this surprising, sad and astonishing movie, none is more staggering than Wiesler's evolution from lowly bureaucratic beetle to humanist.

Denver Rocky Mountain News

2/23/2007 by Robert Denerstein

Morally complex, beautifully shaded and filled with fascinating characters, this debut film from director Florian Henckel von Donnersmarck brings us into a world that severely tests moral fiber.

Denver Post

2/23/2007 by Lisa Kennedy

It is Ulrich Muhe's portrayal of Wiesler that makes the film such an impressively humane political thriller. The muted shifts in Wiesler's character suggest that when you truly engage the lives of others, you open yourself to profound change.

Dallas Morning News

2/23/2007 by Chris Vognar

Set, appropriately, in 1984, The Lives of Others weaves a compelling human drama into a chilling portrait of polite totalitarianism.

Arizona Republic

2/22/2007 by Kerry Lengel

Just from an entertainment standpoint, wondering what decisions the characters will make, and what the consequences might be, makes for edge-of-your-seat tension despite the movie's quietly thoughtful tone.

Washington Post

2/22/2007 by Desson Thomson

To watch Lives is not just to enjoy a fabulously constructed timepiece; it's to appreciate a deft cautionary tale.

Ebert & Roeper

2/20/2007 by Richard Roeper

This is from a first time director, so you see somebody who's just got a great career ahead of him.

Seattle Times

2/16/2007 by John Hartl

What you're likely to take away from his Oscar-nominated drama in the foreign-language category is a sense of hope that feels neither forced nor sentimental.

San Francisco Chronicle

2/16/2007 by Mick LaSalle

Far and away the richest and most brilliantly acted picture to be released this Oscar season.
No one's rated or reviewed this product yet.