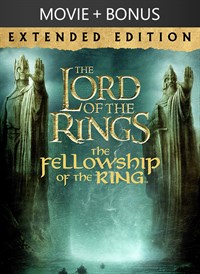 Description
Extended Edition. In the first part of J.R.R. Tolkien's epic masterpiece, The Lord of the Rings, a shy young hobbit named Frodo Baggins inherits a simple gold ring. He knows the ring has power, but not that he alone holds the secret to the survival--or enslavement--of the entire world. Now Frodo, accompanied by a wizard, an elf, a dwarf, two men and three loyal hobbit friends, must become the greatest hero the world has ever known to save the land and the people he loves.
Bonus content
J.R.R. Tolkien: Creator of Middle-earth
Storyboards and Pre-Viz: Making Words into Images
Early Storyboards - "The Prologue"
Early Storyboards - "Orc Pursuit into Lothlórien"
Early Storyboards - "Sarn Gebir Rapids Chase"
Pre-Viz Animatics - "Gandalf Rides to Orthanc"
Pre-Viz Animatics - "The Stairs of Khazad-dûm"
Animatic to Film - "Nazgûl Attack at Bree" (Split Screen)
Animatic to Film - "Nazgûl Attack at Bree" (Storyboard)
Animatic to Film - "Nazgûl Attack at Bree" (Film)
Animatic to Film - "The Bridge of Khazad-dûm" (Split Screen)
Animatic to Film - "The Bridge of Khazad-dûm" (Storyboard)
Animatic to Film - "The Bridge of Khazad-dûm" (Film)
FOTR Designing Middle-earth
FOTR Filming - The Fellowship of the Cast
FOTR Filming - A Day in the Life of a Hobbit
FOTR Filming - Cameras in Middle-earth
FOTR Visual Effects - Scale
FOTR Visual Effects - Miniatures (Big-atures)
FOTR Visual Effects - WETA Digital
Post-Production - Editorial: Assembling an Epic
FOTR Sound & Music - The Soundscapes of Middle-earth
FOTR Sound & Music - Music for Middle-earth
The Fellowship of the Ring - Behind the Scenes
Additional information
Genres
Action/Adventure
Sci-Fi/Fantasy
Writers
Peter Jackson
Fran Walsh
Philippa Boyens
Size
12.77 GB (1080p HD)
8 GB (720p HD)
6.41 GB (SD)