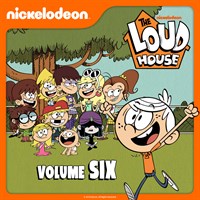 Available on
Xbox One
HoloLens
PC
Mobile device
Xbox 360
Description
Ever wonder what it's like to grow up in a big family? Eleven-year-old Lincoln Loud gives viewers an inside look at how to survive the chaos of a huge household, especially as the only boy with ten sisters!
Episodes
1. A Tale of Two Tables/The Sweet Spot
2. Hand-Me-Downer/Sleuth or Consequences
3. Left in the Dark/Get the Message
4. Heavy Meddle/Making the Case
5. Along Came a Sister/Chore and Peace
6. Project Loud House/In Tents Debate
7. Driving Miss Hazy/No Guts, No Glori
8. Picture Perfect/Undie Pressure
9. Linc or Swim/Changing the Baby
10. Sound of Silence/Space Invader
11. The Butterfly Effect/The Green House
12. For Bros About to Rock/It's a Loud, Loud, Loud, Loud House
13. Overnight Success/Ties that Bind
14. Toads and Tiaras/Two Boys and a Baby
15. House Music/A Novel Idea
16. Attention Deficit/Out On A Limo
17. Cover Girls/Save the Date
18. Lincoln Loud: Girl Guru/Come Sale Away
19. Roughin' It/The Waiting Game
20. Dance Dance Resolution/A Fair to Remember
21. The Price of Admission/One Flu Over the Loud House
22. One of the Boys/A Tattler's Tale
23. April Fools Rules/Cereal Offender
24. The Loudest Yard/Raw Deal
25. Study Muffin/Homespun
26. Funny Business/Snow Bored
27. Intern for the Worse/The Old and the Restless
29. Baby Steps/Brawl in the Family
30. Suite and Sour/Back in Black
31. Lock 'N Loud/The Whole Picture
32. Making the Grade/Vantastic Voyage
33. No Such Luck/Frog Wild
34. Patching Things Up/Cheater by the Dozen
35. Kick the Bucket List/Party Down
37. Pulp Friction/Pets Peeved
38. Out of the Picture/Room with a Feud
39. The Loudest Mission: Relative Chaos
40. Back Out There/Spell it Out
41. Potty Mouth/"L" is for Love
42. ARGGH! You For Real?/Garage Banned
43. Fool's Paradise/Job Insecurity
44. Change of Heart/Health Kicked
45. Future Tense/Lynner Takes All
46. Yes Man/Friend or Faux
48. No Laughing Matter/No Spoilers
49. Read Aloud/Not a Loud
51. The Crying Dame/Anti Social
52. Snow Way Out/Snow Way Down
53. Roadie to Nowhere/A Fridge Too Far
54. Selfie Improvement/No Place Like Homeschool
55. White Hare/Insta-Gran
56. City Slickers/Fool Me Twice
57. Net Gains/Pipe Dreams
58. Fandom Pains/Rita Her Rights
59. Teachers' Union/Head Poet's Anxiety
62. Pasture Bedtime/Shop Girl
63. Ruthless People/What Wood Lincoln Do?
64. Gowns and Out/Breaking Dad
65. Scales of Justice/Crimes of Fashion
Additional information
Duration
65 episodes (1 day 0 h 35 min)