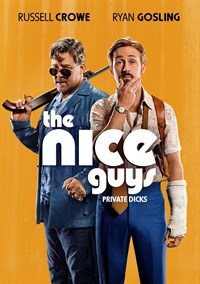 A private eye investigates the apparent suicide of a fading porn star in 1970s Los Angeles and uncovers a conspiracy.
$14.99
Save $5.00
 • 
38 minutes left
Once you select Rent you'll have 14 days to start watching the movie and 24 hours to finish it.
Available on
Xbox One
HoloLens
PC
Mobile device
Xbox 360
Description
Set in 1970s Los Angeles, down-on-his-luck private eye Holland March (Ryan Gosling) and hired leg-breaker Jackson Healy (Russell Crowe) must work together to solve the case of a missing girl and the seemingly unrelated death of a porn star. During their investigation, they uncover a shocking conspiracy that reaches up to the highest circles of power.
Additional information
Age rating
Genres
Comedy
Thriller/Mystery
Writers
Shane Black
Anthony Bagarozzi
Writers
Shane Black
Anthony Bagarozzi
Size
6.08 GB (1080p HD)
3.31 GB (720p HD)
1.94 GB (SD)
Size
6.08 GB (1080p HD)
3.31 GB (720p HD)
1.94 GB (SD)
| | |
| --- | --- |
| Windows | Windows 8, Windows 8.1, Windows 10 or later |
| Xbox | Xbox 360, Xbox One, Xbox One S, Xbox One X |
| Mobile | Windows Phone 8, Windows Phone 8.1, Windows 10 or later |
| UHD | Xbox One S or Xbox One X with a connection to a 4K television over HDMI 2.0a with support for HDCP 2.2. An HDR-capable television is required to view in High Dynamic Range. |

Tomatometer®
Audience
The Atlantic

5/21/2016 by Christopher Orr

---

For those attuned to its amiably sleazy vibe and sudden alternations between violence and slapstick, it offers a guiltily pleasurable way to pass an evening.

New York Magazine/Vulture

5/20/2016 by David Edelstein

---

The Nice Guys has a nice feel: just slick enough to keep from falling apart, just brutal enough to keep from seeming inconsequential.

New Yorker

5/20/2016 by Anthony Lane

---

Why see this film? Partly because of the leading men, but mainly because of a girl.

NPR

5/20/2016 by Scott Tobias

---

It has the byzantine plot of an L.A. noir, but races through it with the breathless energy of Black's other work.

Globe and Mail

5/20/2016 by Barry Hertz

---

It's all delightfully fizzy, bloody fun - even if there's the teeniest, tiniest hint of sequel ambitions.

Detroit News

5/20/2016 by Adam Graham

---

"The Nice Guys" flies high on the chemistry between Gosling and Crowe, and Black gives them plenty to chew on. It's a gourmet summer treat. Nice, guys.

Toronto Sun

5/19/2016 by Bruce Kirkland

---

It creates great on-screen chemistry between Gosling and Crowe - as brute adversaries who partner up as private eyes to solve a criminal conspiracy. And it blows your mind with its sense of absurdity - even while making the crime caper count.

Chicago Reader

5/19/2016 by J. R. Jones

---

Because this is set in Los Angeles in the 1970s, we're supposed to think back to Chinatown and The Long Goodbye and excuse the opaque plot, around which Black's eccentric gags float like seasoned croutons in bland soup.

Boston Globe

5/19/2016 by Ty Burr

---

For a movie predicated on slapstick forward momentum, we spend an awful lot of time driving backward.

Los Angeles Times

5/19/2016 by Justin Chang

---

Though the plot here may be a confusing, multi-threaded mess ... it's occasionally offset by the exuberance with which Black blends splatter and slapstick, and the leeway he grants his two very game leads.

New York Post

5/19/2016 by Lou Lumenick

---

It freshens the odd-couple formula with some nice period and father-daughter twists.

Wall Street Journal

5/19/2016 by Joe Morgenstern

---

Everything has its own illogic in "The Nice Guys," a consistently entertaining, frequently violent and generally slapdash action comedy directed by Shane Black.

Associated Press

5/19/2016 by Jocelyn Noveck

---

Gosling and Crowe do have chemistry, and an obvious sense of humor which gets them far. They'd have gotten farther, though, if the movie, while at times hilarious, didn't have such an uneven feel.

The New Republic

5/19/2016 by Will Leitch

---

The best thing The Nice Guys has going for it are two laid-back, easygoing, deeply likable performances by its stars.

Washington Post

5/19/2016 by Ann Hornaday

---

Perhaps unfocused and off-balance at times, but conveying a sense of buoyancy that's as cheerfully contagious as it is freewheeling.

Minneapolis Star Tribune

5/19/2016 by Colin Covert

---

From my point of view it's not a great or especially fine movie, but a good near-miss.

St. Louis Post-Dispatch

5/19/2016 by Calvin Wilson

---

Does it include scenes that some may find painful to watch? You bet. Will you be entertained? Thoroughly.

Philadelphia Inquirer

5/19/2016 by Steven Rea

---

The Nice Guys borrows from noir traditions and pulp fiction, throwing a fresh coat of smart-alecky comedy over the whole thing.

San Diego Reader

5/19/2016 by Matthew Lickona

---

There's no reason why it shouldn't be both great fun and warmly human, but alas, it just isn't either.

Chicago Sun-Times

5/19/2016 by Richard Roeper

---

Crowe and Gosling save the day. They both look like hell for most of the film, with neither actor demonstrating a wisp of vanity as they throw themselves into this cheerfully nasty mess.
Portions of content provided by Tivo Corporation - © 2019 Tivo Corporation