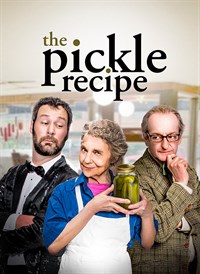 Desperate for cash, a down-on-his-luck party emcee is corrupted by his shameless uncle to steal his grandmother's top secret pickle recipe. It's a recipe she has vowed to take to her grave.
Once you select Rent you'll have 14 days to start watching the movie and 48 hours to finish it.
Available on
Xbox One
HoloLens
PC
Mobile device
Xbox 360
Description
Joey Miller is the undisputed king of Detroit party MC's. He's also a single father and deeply in debt. To make matters worse, during his latest, one-of-a-kind wedding performances, all his sound equipment gets destroyed in a freak accident. To add insult to injury, his daughter Julie's Bat-Mitzvah is only weeks away and she's counting on him to MC her party. After exhausting all of his options, he turns to his shady Uncle Morty, who agrees to give him the needed money but only under one condition. But only under one condition. Joey must go and steal his grandmother Rose's most prized possession: her famous top secret dill pickle recipe. And it's a recipe which she has vowed to take to her grave.
Additional information
Directors
Michael Manasseri
Age rating
Size
5.6 GB (1080p HD)
2.95 GB (720p HD)
1.66 GB (SD)
Size
5.6 GB (1080p HD)
2.95 GB (720p HD)
1.66 GB (SD)
| | |
| --- | --- |
| Windows | Windows 8, Windows 8.1, Windows 10 or later |
| Xbox | Xbox 360, Xbox One, Xbox One S, Xbox One X |
| Mobile | Windows Phone 8, Windows Phone 8.1, Windows 10 or later |

Tomatometer®
Audience
Detroit News

11/4/2016 by Tom Long

---

Look, you can see where all this is going in the first 15 minutes, but getting there is plenty of fun.

New York Times

11/3/2016 by Neil Genzlinger

---

The pickles in "The Pickle Recipe" apparently have quite a kick. The movie, though, is pretty flavorless.

Los Angeles Times

11/3/2016 by Michael Rechtshaffen

---

Rose's pickles might have a pleasant snap, but there's none to be found in the tired, limp shtick in Sheldon Cohn and Gary Wolfson's screenplay, which has been choreographed at a lumbering, drawn-out pace by director Michael Manasseri.

Washington Post

11/3/2016 by Michael O'Sullivan

---

Despite a solid central performance by film veteran Lynn Cohen and a Detroit setting that will please expats and current residents of the Motor City, there is little here to lift this film beyond its regional appeal.

Hollywood Reporter

11/1/2016 by Stephen Farber

---

Ethnic comedies have their limitations, and a sharper script would have helped this one to stand out from the pack. Nevertheless, audiences in a forgiving mood will enjoy the byplay among an appealing bunch of desperate characters.

Arizona Republic

10/27/2016 by Bill Goodykoontz

---

"The Pickle Recipe" is one of those movies that has its heart in the right place. And almost nothing else.

FanboyNation.com

11/1/2018 by Sean Mulvihill

---

The Pickle Recipe disappoints because it wants to have it both ways - acerbic and sweet in equal doses.

Cleveland Plain Dealer

4/21/2017 by Michael Heaton

---

Unfortunately, the result is by turns too cutesy, corny and predictable to be much of a crowd-pleaser the way My Big Fat Greek Wedding was.

Film International

3/12/2017 by Elias Savada

---

Its table scraps tossed about in hope of striking a smile with some of its viewers, The Pickle Recipe leaves the laughs on the floor.

Buffalo News

11/18/2016 by Mark Sommer

---

The Pickle Recipe mostly works as an upbeat comedy that has its heart in the right place, aided by an essential trace element of Jewish humor, Kosher pickle included.
Ratings and reviews
No one's rated or reviewed this product yet.
Thanks. Your review will post soon.
There was an error posting your review. Please try again later.
Portions of content provided by Tivo Corporation - © 2019 Tivo Corporation