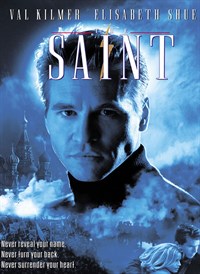 Tomatometer®
Audience
CNN.com

1/5/2018 by Carol Buckland

The Saint isn't unforgivable, but it definitely falls short of being satisfying entertainment.

Variety

5/20/2008 by Todd McCarthy

A generic suspenser that doesn't taste bad at first bite but becomes increasingly hard to swallow.

Chicago Reader

5/20/2008 by Lisa Alspector

This insufferable romance-adventure includes vague comedy as well as unintentional humor, and its target audience seems to be preadolescents who won't notice the calculated enthusiasm with which it sidesteps sexuality.

Time Out

6/24/2006 by Derek Adams

Eminently forgettable.

Rolling Stone

3/6/2005 by Peter Travers

Love redeems this profiteer; it also renders him conventional.

Washington Post

6/26/2002 by Rita Kempley

Reinvention in the hands of Hollywood is seldom cause for celebration.

San Francisco Chronicle

6/18/2002 by Edward Guthmann

There isn't a contemporary film actor more crafty than Val Kilmer -- or one who reveals less of his true self. That's why Kilmer is so perfectly cast as Simon Templar, the master thief and elusive disguise artist of The Saint.

Globe and Mail

4/12/2002 by Liam Lacey

More entertaining than Mission: Impossible or the last Bond film, Goldeneye, it brings back the humour and sang-froid that makes the genre work.

Los Angeles Times

2/14/2001 by Kenneth Turan

Whereas something like Clear and Present Danger was briskly all of a piece, "The Saint" has difficulty making us believe that its diverse elements belong in the same motion picture.

Detroit News

1/1/2000 by Tom Long

A piece of mass-market movie bubblegum that stretches incredulity and then snaps apart.

Salon.com

1/1/2000 by Charles Taylor

A soulless piece of claptrap.

USA Today

1/1/2000 by Mike Clark

Anyone looking for a religious experience at the multiplex this weekend will do better checking out Dennis Rodman's hair hues in Double Team.

Houston Chronicle

1/1/2000 by Louis B. Parks

The Saint is all glitz and comic-book spy plot with no more than a passing hint that Templar has a real personality behind the disguises.

ReelViews

1/1/2000 by James Berardinelli

The Saint is lightly entertaining, but there's very little here worth getting excited about.

Chicago Sun-Times

1/1/2000 by Roger Ebert

Compared with the sensational stunts and special effects in the Bond series, The Saint seems positively leisurely.

Washington Post

1/1/2000 by Desson Thomson

[Noyce] keeps things moving at a kinetic, involving pace.

New York Times

1/1/2000 by Janet Maslin

Loud, frantic, ridiculously overproduced and featuring a preening performance by Val Kilmer as a supposedly brilliant master of disguise, The Saint is sheer overkill.

Common Sense Media

5/31/2016 by Brian Costello

Uneven '90s action movie has violence, some drug use.

TV Guide

5/20/2008 by Maitland McDonagh

Kilmer slips in and out of a series of ludicrously elaborate disguises, some more convincing than others, while poor Shue shuffles through the role of a sexy, book-reading babe pretending to be a dowdy lady scientist in kneesocks.

Empire Magazine

5/20/2008 by Darren Bignell

There's no lack of style or pace from Noyce, just the sense that it isn't quite gelling together.
Showing 1-10 out of 1 reviews
Review title of Cong

One of the Greatest Movies of the Past 25 Years

The Saint (1997) is finally getting its due after being panned by critics for the past 25 years. Because of this smear campaign the movie was never released on Bluray or HD video for decades...until now. Every single year the ratings for this movie keep increasing as people find out how great it is and to never trust the critics. It's a great "coming of age" movie except instead of a teenager coming of age like other cliche movies its an older 30-40 year old Val Kilmer coming of age. The Saint is ultimately a more relatable, dynamic character then his counterpart - James Bond. The Soundtrack also made the Sneaker Pimps famous in the 90s with 6 Underground!

1 out of 1 people found this helpful.