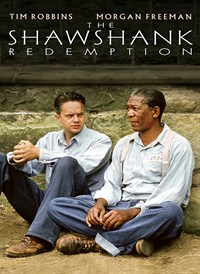 Tomatometer®
Audience
98 %
884,696 user reviews
Hollywood Reporter

9/23/2016 by Duane Byrge

In the lead roles, both Robbins and Freeman are outstanding, layering their performances with snippets of individuality: Their small, daily sustenances and minor triumphs are wonderfully inspiring.

New York Daily News

9/22/2015 by Dave Kehr

This is an engagingly simple, good-hearted film, with just enough darkness around the edges to give contrast and relief to its glowingly benign view of human nature.

Chicago Tribune

1/16/2013 by Gene Siskel

Simply marvelous entertainment.

TIME Magazine

6/15/2011 by Richard Schickel

Freeman, who is simply a great actor, a man who has never struck a false note in his career, both narrates this tale and anchors it with his authoritative playing.

Variety

6/28/2007 by Leonard Klady

A testament to the human spirit...

Chicago Reader

6/28/2007 by Jonathan Rosenbaum

A passing reference to 'The Count of Monte Cristo' offers a partial clue to what makes this movie compelling.

Time Out

6/24/2006 by Derek Adams

...a throwback to the kind of serious, literate drama Hollywood used to make.

Boston Globe

9/24/2004

It's a simple story elegantly, cleverly told, not to mention expertly acted.

New York Times

5/20/2003 by Janet Maslin

Without a single riot scene or horrific effect, it tells a slow, gentle story of camaraderie and growth, with an ending that abruptly finds poetic justice in what has come before.

Rolling Stone

5/12/2001 by Peter Travers

It's the no-bull performances that hold back the flood of banalities.

San Francisco Chronicle

1/1/2000 by Peter Stack

Thanks to fine performances and beautiful photography, you get that inspirational jump-start frame after frame.

Chicago Sun-Times

1/1/2000 by Roger Ebert

If the film is perhaps a little slow in its middle passages, maybe that is part of the idea, too, to give us a sense of the leaden passage of time, before the glory of the final redemption.

Washington Post

1/1/2000 by Desson Thomson

It wanders down subplots at every opportunity and ignores an abundance of narrative exit points before settling on the aforementioned finale.

Washington Post

1/1/2000 by Rita Kempley

It's a devoutly old-fashioned, spiritually uplifting prison drama about two lifers who must break their emotional shackles before they can finally become free men.

ReelViews

1/1/2000 by James Berardinelli

The Shawshank Redemption is all about hope and, because of that, watching it is both uplifting and cathartic.

Entertainment Weekly

9/10/1994 by Owen Gleiberman

With his gift for rapt pauses, for caressing just the right syllable, Freeman can make a speech like that sound like one of the philosophical nuggets of the ages.

ReelTalk Movie Reviews

12/17/2014 by Betty Jo Tucker

Top-notch performances, exceptional cinematography, and masterful direction combine to make this film something special indeed.

Film4

6/15/2011

Powerful, poignant, thought-provoking and finally irresistibly uplifting.

Empire Magazine

6/15/2011 by Ian Nathan

If you don't love Shawshank, chances are you're beyond redemption.

Ozus' World Movie Reviews

3/16/2011 by Dennis Schwartz

Spiritually moving old-fashioned prison pic.
No one's rated or reviewed this product yet.