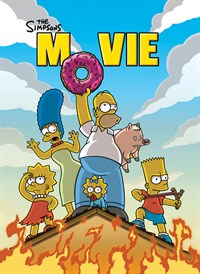 Tomatometer®
Audience
77 %
1,823,101 user reviews
The New Republic

8/2/2015 by Christopher Orr

There were plenty of decent jokes, but I've already forgotten most of them; I suspect within a month's time I'll be hard pressed to recall much about the movie at all beyond a vague sense of disappointment.

New Yorker

8/4/2013 by David Denby

The incomparable gang at full length for the first time, with enough jokes, satire, nonsense, and sentiment to justify the eighty-eight minutes.

New York Magazine/Vulture

8/6/2007 by David Edelstein

Doesn't make the existential leap to the big screen, and it doesn't have the density of gags or the lunatic free-association of the best episodes.

CNN.com

8/3/2007 by Paul Clinton (CNN.com)

Nobody should have a cow. Bigger and longer don't always mean better, but The Simpsons Movie is still a cut above.

Ebert & Roeper

7/31/2007 by Richard Roeper

Definitely worth your money.

Toronto Star

7/27/2007 by Geoff Pevere

Some 10 years after expected, The Simpsons Movie couldn't give a doodle in a doughnut hole about expectations anyway. It may deliver what we've already got, but it leaves no doubt why we got it in the first place.

Slate

7/27/2007 by Dana Stevens

The Simpsons Movie is as hard to critique as it is to resist.

Rolling Stone

7/27/2007 by Peter Travers

This one feels incomplete, an underachiever still searching for a real reason to exist beyond enriching a fat franchise.

New York Daily News

7/27/2007 by Elizabeth Weitzman

A very funny, solidly entertaining movie that, despite its unshakable obsesion with undergarments, is as sweet as a Kwik-E-Mart Squishee.

Miami Herald

7/27/2007 by Rene Rodriguez

In a way, the film is more of a Simpsons celebration than anything else -- the mother of all anniversary episodes.

Houston Chronicle

7/27/2007 by Amy Biancolli

It's subversively hilarious as well as strangely touching, and it features a scene in which Homer is directed across the landscape by the twin shadows of a woman's mountainous chest.

Globe and Mail

7/27/2007 by Liam Lacey

This is The Simpsons which, with its first big-screen effort, is underachieving and proud of it, man.

Denver Post

7/27/2007 by Michael Booth

The Simpsons concept in feature length is just as reassuringly startling in its nonstop irreverence as the best of the weekly TV droppings.

Salon.com

7/27/2007 by Stephanie Zacharek

The picture works because, despite the fact that it took nearly six years for the filmmakers to bring it to the screen, it doesn't strive for greatness. It's fleet, concise and clever in a nut-ball way.

ReelViews

7/27/2007 by James Berardinelli

While nothing in this motion picture quite matches the television series at its early best, this is more of a throwback than a throw-away. It's wittier and more energetic than anything that has appeared on FOX in quite a few years.

Los Angeles Times

7/26/2007 by Carina Chocano

It's a strange path for the series' star writers to have chosen -- this idea that more existential meant better.

Wall Street Journal

7/26/2007 by Joanne Kaufman

Hurray for Homer. Long may he rave.

Christian Science Monitor

7/26/2007 by Peter Rainer

The movie is best when it just riffs on our compacted memories of the past 18 years of episodes. Fortunately, that's most of the time.

Chicago Reader

7/26/2007 by J. R. Jones

This long-awaited movie adaptation has plenty of laughs, plus an assortment of milestones for fans.

Philadelphia Inquirer

7/26/2007 by Steven Rea

The Simpsons Movie is finally here. And guess what? It's funny. But not that funny.