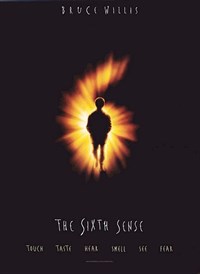 Tomatometer®
Audience
90 %
1,036,091 user reviews
Washington Post

10/7/2014 by Stephen Hunter

You leave slightly asquirm. You know it will linger. It becomes a clammy, chilly movie building toward a revelation that you cannot predict. As I say: I cannot tell you. You'd hate me if I did. I can only say, don't look now, but look sometime.

Philadelphia Inquirer

8/27/2013 by Carrie Rickey

So transparent is Osment as an actor, and so rare, that the pain on his face stabs you in the heart.

Slate

8/27/2013 by David Edelstein

Osment's pinched, old-young face suggests an ancient's insight without an ancient's defenses -- a sensitivity so exquisitely morbid that you worry more for his emotional than physical well-being.

CNN.com

8/27/2013 by Paul Clinton (CNN.com)

Willis turns in a measured and understated performance.

New Yorker

10/10/2012 by David Denby

A delicate, emotionally attentive, but very scary ghost story.

New York Daily News

10/10/2012 by Jack Mathews

I was not only surprised by the film's final twist, I wasn't even looking for one. I just thought I was watching a bad movie. The end doesn't quite redeem it, but it makes you think about what you've seen. That's a saving grace of some sort.

Los Angeles Times

10/10/2012 by John Anderson

Shyamalan's script is a clever construct, but also contains a great deal of sensitivity to the plight of the "different" child.

AV Club

10/10/2012 by Keith Phipps

Like Kieslowski and others, Shyamalan knows that what makes for lousy metaphysics can make for powerful metaphor, and in the end he creates a deeply, surprisingly affecting film out of a little bit of smoke and brimstone.

Chicago Reader

6/26/2007 by Lisa Alspector

M. Night Shyamalan neutralizes Willis's star presence with impressive plotting that's a fine excuse for the powerful atmosphere.

Observer

4/27/2007 by Andrew Sarris

An effectively understated and moodily engrossing ghost film with a surprisingly satisfying jolt at the end.

Time Out

2/9/2006 by Nigel Floyd

A poignant study of the searing pain caused by loss, this all-too-human horror film provokes tears as well as fears.

Globe and Mail

3/22/2002 by Jeff Gray

Billed as a 'chilling, psychological thriller,' this movie is actually none of those things.

Village Voice

1/1/2000 by Michael Atkinson

Too often the film gets lost in overlit opulence and the soundtrack going 'boo.'

Variety

1/1/2000 by Todd McCarthy

A terrific last-minute story twist goes a fair way toward redeeming The Sixth Sense.

Denver Post

1/1/2000 by Steven Rosen

Chilling and new!

USA Today

1/1/2000 by Mike Clark

The Sixth Sense is the movie that really deserves to be called The Haunting.

Detroit News

1/1/2000 by Tom Long

Sixth Sense is scary -- and smart!

Film.com

1/1/2000 by Tom Keogh

An unusually intelligent thriller!

Film.com

1/1/2000 by Peter Brunette

Of the big studio films released this summer, it's hands-down the best!

Washington Post

1/1/2000 by Desson Thomson

The Sixth Sense is a ghost story and a psychological thriller. But there's something finer to it than that.
No one's rated or reviewed this product yet.