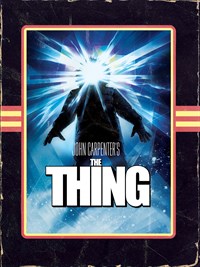 Description
Horror-master, John Carpenter (Halloween, Escape from New York) teams Kurt Russell's outstanding performance with incredible visuals to build this chilling version of the classic The Thing. In the winter of 1982, a twelve-man research team at a remote Antarctic research station discovers an alien buried in the snow for over 100,000 years. Once unfrozen, the form-changing alien wreaks havoc, creates terror and becomes one of them.
Additional information
Genres
Horror
Sci-Fi/Fantasy
Writers
Bill Lancaster
John W. Campbell Jr.
Size
6.08 GB (1080p HD)
3.8 GB (720p HD)
3.05 GB (SD)