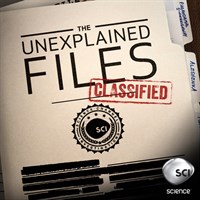 Available on
Xbox One
HoloLens
PC
Mobile device
Xbox 360
Description
From spontaneous combustion to UFO sightings, there are some phenomena that science cannot—or will not—explain. THE UNEXPLAINED FILES examines these cases, bringing together credible experts and eyewitnesses who share never before seen footage and first-person accounts of these mystifying events.
Episodes
2. The Real Exorcist and Mystery of the Dying Elk
3. Peruvian Alien Skull and Baltic Sea UFO
4. Paranormal Highway of America
5. Curse of Flannan Lighthouse and Aleshenka: Russian Mummy
6. Death from the Sky and Mexican Chupacabra
7. Siberian Lake Serpent and Mystery of the Bosnian Pyramid
8. Are Aliens Attacking Our Nuclear Arsenal?
9. Lost Giants of Georgia/Bridge of Death
10. Mysteries at 30,000 Feet
11. Voodoo Zombies/Life After Death
12. Shadow People and The Sun Miracle
13. Aliens, Monsters, and Demons: The New Evidence
Additional information
Age rating
Genres
Documentary/Bio
Educational
Family/Children
Duration
13 episodes (9 h 21 min)