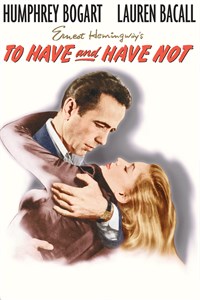 Tomatometer®
Audience
Chicago Reader

8/15/2014 by Dave Kehr

In many ways the ultimate Hawks film: clear, direct, and thoroughly brilliant.

TIME Magazine

8/15/2014 by James Agee

Lauren Bacall has cinema personality to burn, and she burns both ends against an unusually little middle.

Variety

3/16/2009 by Variety Staff

Bogart is in his usual metier, a tough guy who, no less, has the facility of making a dame go for him, instead of he for her. That's where Bacall comes in.

Time Out

2/9/2006 by Phil Hardy

Bogie and Bacall fell in love while making the film, and their scenes reflect this, giving To Have and Have Not a degree of emotional presence that is unusual in the 'bite on the bullet' world of Hawks.

ReelViews

1/29/2004 by James Berardinelli

The movie is entertaining in its own right, and representative of the era in which it was produced, but, aside from the legendary interaction between Bogart and Lauren Bacall, there are only moderate reasons to recommend the film.

Hollywood Reporter

1/10/2004 by Douglas Pratt

The scenes between Bogart and Bacall are so dazzlingly about attraction and sex that they encapsulate the whole magic of movies.

New York Times

5/20/2003 by Bosley Crowther

As the hard-boiled professional fisherman who gives his ample ingenuity to a cause, Mr. Bogart is almost as impressive as he was as Rick, the Casablanca host.

Creative Loafing

7/24/2016 by Matt Brunson

Second only to The Big Sleep as the best of the love birds' quartet of films together (the others were Dark Passage and Key Largo), it's yet another gem from Howard Hawks, still the most underrated of all great American directors.

Cinema Crazed

7/1/2016 by Phil Hall

A victory of style and star power over substance.

Parallax View

3/14/2015 by Richard T. Jameson

While there are moments implying breezy, spontaneous improvisation in virtually all Hawks pictures, no other has such an all-pervasive sense of a floating party...

LarsenOnFilm

8/19/2014 by Josh Larsen

Bacall slinks onto the screen asking Bogart for matches and walks away with the entire movie.

Total Film

8/15/2014

Unfussily directed, To Have And Have Not is packed with memorable exchanges in shadowy interiors, and showcases the husky-voiced Bacall at her most insolent and alluring.

TV Guide

8/15/2014

Stylish and loaded with humor.

Radio Times

8/15/2014 by Tony Sloman

This one is a must: they don't come better.

Sight and Sound

8/15/2014 by Herman G. Weinberg

Asking an audience to laugh for two hours at the delirium tremens of a man suffering from alcoholism is a grisly thing.

EmanuelLevy.Com

7/13/2008 by Emanuel Levy

"You know how to whistle, don't you? You just put your lips together and blow," said Lauren Bacall to Bogey in this entertaining follow-up to Casablanca, thus launching the onscreen (and offscreen) romance that made them a popular team in the 1940s.

Ozus' World Movie Reviews

7/10/2008 by Dennis Schwartz

It owes more to Casablanca than it does to Hemingway.

Film Freak Central

7/9/2007 by Walter Chaw

Has a slick of bestial sweat to it that promises that the explosion of really naughty stuff is looming.

Decent Films Guide

2/17/2005 by Steven D. Greydanus

[Bogey & Bacall's] onscreen chemistry is palpable, all but overshadowing the fictional back story that made Rick and Ilsa's dance in Casablanca so memorable.
No one's rated or reviewed this product yet.