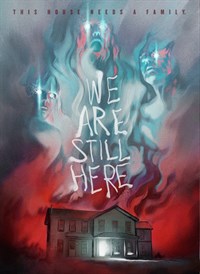 In this chilling modern ghost story, a couple moves to a sleepy rural town where they're haunted by the vengeful spirits of the family that was murdered in their house.
Once you select Rent you'll have 14 days to start watching the movie and 48 hours to finish it.
Available on
Xbox One
HoloLens
PC
Mobile device
Xbox 360
Description
After their teenage son is killed in a car crash, Paul and Anne move to the New England countryside to try to start a new life. But the grieving couple unknowingly becomes the prey of a family of vengeful spirits that reside in their new home, and before long they discover that the seemingly peaceful town is hiding a terrifyingly dark secret. Now they must find a way to overcome their sorrow and fight back against both the living and dead as the malicious ghosts threaten to pull their souls – and the soul of their lost son – into hell with them. From the producers of The House Of The Devil and Cheap Thrills, WE ARE STILL HERE is a tense, frightening, and thoroughly haunting ghost story.
Additional information
Genres
Foreign/Independent
Horror
Thriller/Mystery
Genres
Foreign/Independent
Horror
Thriller/Mystery
Size
4.93 GB (1080p HD)
2.62 GB (720p HD)
1.75 GB (SD)
Size
4.93 GB (1080p HD)
2.62 GB (720p HD)
1.75 GB (SD)
| | |
| --- | --- |
| Windows | Windows 8, Windows 8.1, Windows 10 or later |
| Xbox | Xbox 360, Xbox One, Xbox One S, Xbox One X |
| Mobile | Windows Phone 8, Windows Phone 8.1, Windows 10 or later |

Tomatometer®
Audience
Minneapolis Star Tribune

9/3/2015 by Colin Covert

---

"We Are Still Here" has a long, slow fuse that sets off a wallop of a climax.

Hollywood Reporter

8/21/2015 by Frank Scheck

---

Showcasing juicy performances by its actors who tear into their stock roles with admirable conviction, the film looks terrific.

RogerEbert.com

6/5/2015 by Glenn Kenny

---

More than a mere homage, "We Are Still Here" is the kind of movie you wish you could take back in time with you and project in your favorite 42nd Street grindhouse.

Los Angeles Times

6/4/2015 by Robert Abele

---

Once "We Are Still Here" unsticks itself from hommage mode, it finds something cathartically funny inside the fearsome.

New York Times

6/4/2015 by Helen T. Verongos

---

"We Are Still Here" will make you scream and make you laugh, and possibly leave you speechlessly gesticulating at a charred zombielike ghost in the background. But the peak moments are too few ...

AV Club

6/4/2015 by Alex McLevy

---

We Are Still Here is the latest iteration of people unwittingly stumbling upon an ancient menace, and it succeeds more than it fails, thanks largely to the nice work of first-time director Ted Geoghegan.

Entertainment Weekly

6/3/2015 by Chris Nashawaty

---

Geoghegan's directorial debut has enough decent scares to push it past pastiche.

Observer

6/3/2015 by Rex Reed

---

The haunted house genre has been done to death (pardon the pun) but this one has some genuine chills. The plotting is aggressive.

Village Voice

6/2/2015 by Rob Staeger

---

Early scenes overplay the shock of these phantasms, but just as you expect Geoghegan to crank up the effects, the film mixes in some subtler scares.

Variety

3/19/2015 by Dennis Harvey

---

The lumbering ghouls are a bit too hokey to be taken seriously as objects of terror. But they fit into a general thematic and design scheme that faithfully echoes a seminal era's often garish horror convention

Cinemaphile.org

11/17/2018 by David Keyes

---

There is a skill working through the frames of director Ted Geoghegan's debut opus, providing us with enough allure and tension to more than make up for the maddening uncertainty.

The Film Stage

2/23/2016 by Bill Graham

---

Geoghegan shows a healthy love of gore as he smears the quiet landscape with red.

Daily Dead

1/6/2016 by Heather Wixson

---

A wonderfully weird, gory and full of heart and poignancy, We Are Still Here is an assured and well-crafted debut from Geoghegan that's clearly a heartfelt love letter embracing what genre fans enjoy most about horror movies.

Total Film

12/31/2015 by Jamie Graham

---

Those who can spot a Fulci reference will likely embrace this creepy, bloody haunted house movie more than mainstream viewers. But if you like your horror, it's a treat.

Starburst

12/31/2015 by Joel Harley

---

A love letter to Fulci and the Italian masters, this retro horror tale recalls his House by the Cemetery by way of Sam Raimi's Evil Dead.

Eye for Film

12/31/2015 by Jennie Kermode

---

Full of smart and not always subtle references to horror film classics, especially those of European origin, and to New England literature, We Are Still Here is a treat for educated fans.

Matt's Movie Reviews

10/25/2015 by Matthew Pejkovic

---

Geoghegan does a great job in keeping the tension high, teasing his ghastly ghosts with escalating bouts of gore infested violence to make We Are Still Here a film that will satisfy both haunted house and gore horror fans.

EricDSnider.com

10/22/2015 by Eric D. Snider

---

Offers a few good scares and some moments of high tension... Leads to a raucous and bloody finale.

Slant Magazine

10/22/2015 by Chuck Bowen

---

Just in time for Halloween: a beautiful transfer of an underrated, confidently directed haunted-house thriller.

PopMatters

10/7/2015 by Valeriy Kolyadych

---

Geoghegan manages to craft a film that works both as a modern horror film and as a love letter to the kinds of films he grew up with.
No one's rated or reviewed this product yet.
Portions of content provided by Tivo Corporation - © 2019 Tivo Corporation