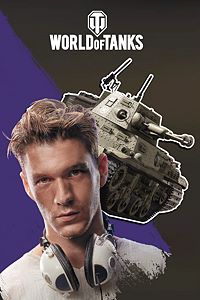 Description
Fight for glory, and let your legend ring throughout history. Get started with this free bundle packed with everything you need to take the battlefield by storm in World of Tanks: Mercenaries! This bundle comes with the bonus Corporal Hunt crew. He's an elite soldier who can be used with any Mercenary vehicle, including the legendary Absolution (available to earn for free or purchase for a limited time only - check in-game for more details)! Bundle includes: • American Tier III MTLS-1G14 Light Tank: a fast and powerful Premium vehicle! • 100% Trained Crew: you're ready to play at maximum potential with a true pro at the helm of your tank! • 1 Garage Slot: to keep your new tank safe and sound! • BONUS 100% Trained Crew: Corporal Hunt (with Controlled Impact and Track Mechanic skills) • 100,000 Silver: use it to get more tanks and upgrades! The MTLS-1G14 comes with a mix of standard and Premium ammo.
Additional information
Approximate size
10.09 MB
Age rating
For ages 13 and up
In-app purchases
Price range: $2.99 to $99.99
Installation
Install on your home Xbox One console plus have access when you're connected to your Microsoft account.
Report this product
Sign in to report this product to Microsoft