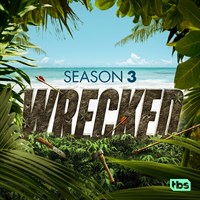 This season, the Wrecked gang find themselves shipwrecked on a mysterious billionaire's private island where they're forced to hunt each other to the death in a basic-cable battle royale.
Buy season pass and get all current and future episodes of season 3
Available on
Xbox One
HoloLens
PC
Mobile device
Xbox 360
Description
After a plane full of a dysfunctional group of passengers crashes on a remote island, the group must navigate a new awkward society and learn to live without the modern comforts of social media, Wi-Fi, indoor plumbing and fast-food restaurants.
Episodes
Bush Man
Season 3, Episode 1 TV-MA CC HD CC SD
After surviving the Cruisifornication explosion and washing ashore on a new island, the survivors uncover a menacing threat, begging the question -- wait, does anyone actually read these episode descriptions?
Puke & Cigars
Season 3, Episode 2 TV-MA CC HD CC SD
After a charismatic millionaire rescues the survivors, Jess and Florence suspect he may not be what he seems, and set out to answer the question -- who is Declan Stanwick? And more importantly, who is reading this? Anyone?
Six Feet
Season 3, Episode 3 TV-MA CC HD CC SD
After discovering Declan's sinister plot, Danny goes undercover with the rich, while Pack and Karen attempt to escape the compound. I wish we could escape writing these episode descriptions, am I right? Because no one actually reads these, right?
A Game of Chest
Season 3, Episode 4 TV-MA CC HD CC SD
After Jess loses her recollection of the last decade, Todd attempts to spark her memory. Steve and Declan face off in a battle of wits. Like, seriously, what are these episode descriptions being used for? iTunes? Amazon? Are they just buried deep in the TBS app?
Last Meal
Season 3, Episode 5 TV-MA CC HD CC SD
On the eve of "The Hunt," Martha offers to the survivors' one last meel of their choosing -- as long as they can all decide together. And yeah, we know meal is spelled wrong above. We just don't care, because, truly, no one is reading these. So who cares?
Hunt Day
Season 3, Episode 6 TV-MA CC HD CC SD
It's "Hunt Day," and the survivors must face off against each other in a battle royale to the death. Meanwhile, Kevin makes a daring escape. Except -- no he doesn't. Because Kevin's not a real character. Because these episode descriptions don't matter, because no one reads them.
Ballers
Season 3, Episode 7 TV-MA CC HD CC SD
Attempting to hide from the others during "The Hunt," Pack and Jess run into a new threat on the island. Knocked unconscious, Todd must navigate his dreamworld with the help of an unlikely ally -- the second lead on HBO's Ballers, Rob Corddry. But more importantly -- come on, it's episode 7 of season 3. If you haven't taken the plunge into this series already, is reading this episode description really going to knock you over the edge?
8. The Dark Prince Returns
The Dark Prince Returns
Season 3, Episode 8 TV-MA CC HD CC SD
With Karen gravely injured, Owen and Danny must journey to the center of the island to defeat "Chettywompwomp." Florence learns more about Karen's backstory. Much like having to write these ridiculous episode descriptions, Pack, Todd, and Jess face a futile task.
Mrs. Stanwick
Season 3, Episode 9 TV-MA CC HD CC SD
The survivors attempt to turn the tables on the rich and lure them into a trap. Seriously, if anyone actually reads this, email us at IReadTheWreckedEpDescriptions@gmail.com. We'll be genuinely surprised if we get a single email.
The Island Family
Season 3, Episode 10 TV-MA CC HD CC SD
Barricaded in the mansion and surrounded by the rich, the survivors mount one last attempt to escape Declan's island, and -- wait. We get it now. Writing these weren't about the descriptions themselves -- it was about the journey. We're better writers, nay, people, for having penned these. To all who read these, whoever you are -- thank you.
Season 3 Sneak Peek
Season 3, Episode 101 TV-MA CC HD CC SD
Check out a sneak peek of what's to come in season 3!
This Season On
Season 3, Episode 102 TV-MA CC HD CC SD
They've survived a plane crash, a pirate attack, and now they must survive each other.
Additional information
Age rating
Duration
12 episodes (3 h 35 min)
Duration
12 episodes (3 h 35 min)
| | |
| --- | --- |
| Windows | Windows 8, Windows 8.1, Windows 10 or later |
| Xbox | Xbox 360, Xbox One, Xbox One S, Xbox One X |
| Mobile | Windows Phone 8, Windows Phone 8.1, Windows 10 or later |
Ratings and reviews
No one's rated or reviewed this product yet.
Thanks. Your review will post soon.
There was an error posting your review. Please try again later.
Portions of content provided by Tivo Corporation - © 2019 Tivo Corporation