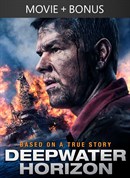 Mark Wahlberg leads an all-star cast in this unforgettably powerful movie inspired by the thrilling story of real-life heroes on a burning oil rig.
The following bonus video contains the featurettes: Beyond the Horizon: Mark Wahlberg - Go on-set with Mark Wahlberg as he discusses his involvement in the film, his preparation to play Mike Williams, and his memories of making Deepwater Horizon. This piece also features thoughts from the real Mike Williams on his story. Beyond the Horizon: Kate Hudson - Join Kate Hudson as she discusses her memories of meeting and portraying Felicia Williams, her time in New Orleans, her favorite moment from the shoot, and working with director Peter Bergs unique methods. Beyond the Horizon: Kurt Russell - Legendary actor Kurt Russell discusses his interest in the true life drama that inspired the film, his enthusiasm for ensemble storytelling, and sharing an on-screen moment with his daughter for the first time ever. Beyond the Horizon: Gina Rodriguez - Gina Rodriguez sits down to discuss her love of performing, boxing with director Peter Berg, and how the experience of Deepwater Horizon changed her forever. Beyond the Horizon: Dylan O'Brien - Sit down with Dylan O'Brien for a discussion about meeting and working with the real Caleb Holloway, the thrill of working with his acting idols, and filming intense action on some of the most impressive sets ever built. Captain of the Rig: Peter Berg - Stars Mark Wahlberg, Kate Hudson, Gina Rodriguez, Kurt Russell and more discuss the stunning vision and unparalleled work of director Peter Berg to bring the story of the Deepwater Horizon to the screen. The Fury of the Rig - Director Peter Berg, stars Mark Wahlberg, Kate Hudson, Gina Rodriguez and others will detail the incredible work involved in bringing Deepwater Horizon's incredible rig and explosive stunts to life. Deepwater Surveillance - Throughout the shooting of Deepwater Horizon the production documented the creation of many of the film's most difficult and interesting scenes and shots with a collection of action cameras. Work Like an American - Skilled workers throughout the country provide immense contributions and often don't get the recognition they deserve – the film DEEPWATER HORIZON helps to capture some of those stories.
---
Mark Wahlberg leads an all-star cast in this unforgettably powerful film inspired by a thrilling story of real-life heroes. For the one hundred and twenty-six people aboard the Deepwater Horizon offshore oil rig, April 20, 2010 began like any normal day. Before day's end, the world would bear witness to one of the greatest man-made disasters in U.S. history. Deepwater Horizon reveals the brave acts of the men and women who rose to the challenge—and risked everything to lead others to safety.
---
---
Genres

Studios

Director

Writers

Release date

9/29/2016
---
---