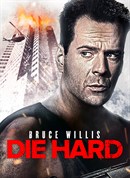 New York City Detective John McClane becomes the only hope for a small group of hostages, one of whom is his estranged wife, trapped in a Los Angeles high-rise office building when it is seized by terrorists on Christmas Eve.
A collection of deleted footage and bloopers including the deleted shot which explains why McClane's shirt changes color in the air shaft.

As originally shot, cutting power to Nakatomi Plaza was slightly more complicated. An unfinished VFX shot appears in black and white.

Deleted lines, alternate takes and goofs from the film's various newscasts, culled from VHS footage shot during principal photography.

Learn how letterboxing helps the director convey more information on screen and preserves the film's intended composition.

The stars and filmmakers discuss the craft of creating compelling characters as well as the explosive special effects of Die Hard.

Hear from key Die Hard players about how the original film "made action movies smarter," and why John McClane remains an iconic hero.

See the most memorable action moments from four Die Hard movies in one explosive trailer.
---
---
Facing Christmas 3,000 miles from his estranged wife and two children, New York policeman John McClane flies to Los Angeles bearing presents and hoping to patch up his marriage. Stylish and cool Hans Gruber is in Los Angeles as well for the holiday season, but he's not there to give out presents. He's there to take: more than $600 million in negotiable bearer bonds from the multinational Nakatomi Corporation, where McClane's wife Holly is an executive. McClane arrives at his wife's office building and relaxes while she and her fellow employees are having a Christmas party celebrating the most successful year in the history of the company. Meanwhile, Gruber and a dozen fellow terrorists are meticulously sealing off the building. Since it's Christmas Eve, the building is virtually empty, so Gruber easily seizes control and takes the Nakatomi employees hostage. Then as the intruders start dissecting the elaborate safe holding the more than $600 million in bonds, McClane, unseen and unknown to the terrorists, starts disrupting their finely laid plans. The terrorists still have the upper hand, with an arsenal of weapons. McClane has only his service automatic, but he also has as a 34-story building in which to use his courage, cunning and endurance in a deadly cat-and-mouse game. And as the dozen terrorists are going to find out, John McClane is not about to go down without a fight. Bruce Willis stars as no-nonsense cop John McClane, who takes on the 12 terrorists with grit and determination, but not without a sense of humor. Also starring are Alan Rickman as terrorist leader Hans Gruber; Bonnie Bedelia as Holly McClane, and Alexander Godunov as Karl, the terrorist with a personal grudge against John McClane. The Gordon Co./Silver Pictures Production is directed by John McTiernan and produced by Lawrence Gordon and Joel Silver. The script is by Jeb Stuart and Steven E. de Souza, based on the novel Nothing Lasts Forever by Roderick Thorpe. Charles Gordon serves as executive producer.
---
---
Genres

Studios

Director

Release date

7/15/1988

Duration

2 h 12 min

Subtitles

English

Audio

English

Supported devices

Purchase rights

When you buy a video, you can watch it now, or download the video to a compatible device and watch it later. Complete info about your viewing rights are in the Terms of Use.

Rental rights

When you rent, the viewing period is 14 days from the time of your order or 24 hours from the time you start to watch, whichever comes first.
---
---
---