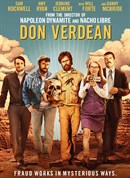 A comedy of Biblical proportions from the creators of NAPOLEON DYNAMITE. A self-proclaimed Biblical archaeologist fuels a comic conspiracy when he tries to cover up his failure.
Discover how the films unique sound design was created in the "Behind the Sounds Featurette".

Join the cast of Don Verdean as they discuss making a film of biblical proportions in the featurette "Digging in: Behind the Scenes of Don Verdean".
---
---
From the creators of NAPOLEON DYNAMITE and NACHO LIBRE comes a comedy of biblical proportions. Hired by an ambitious small-town pastor to find sacred relics in the Holy Land, a self-proclaimed Biblical archaeologist comes up short, and his attempt t o cover up his failure fuels a comic conspiracy.
---
---
Genres

Studios

Director

Writers

Release date

12/11/2015

Duration

1 h 36 min

Subtitles

English

Audio

English

Supported devices

Purchase rights

When you buy a video, you can watch it now, or download the video to a compatible device and watch it later. Complete info about your viewing rights are in the Terms of Use.

Rental rights

When you rent, the viewing period is 14 days from the time of your order or 48 hours from the time you start to watch, whichever comes first.
---
---
---