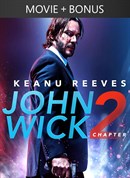 Legendary hitman John Wick is forced back out of retirement, and this time, he must face off against a shadowy international assassins' guild and more of the world's deadliest killers.
Bonus Featurette includes: Deleted Scenes - Watch 3 scenes that were not in the final film RetroWick: Exploring the Unexpected Success John Wick - From Indie upstart to phenomenon: Keanu Reeves and the cast and crew discuss the birth of a franchise. Training John Wick - Join Keanu Reeves and Common as they train hard in Guns, Cars and hand-to-hand combat in this visceral dissection of the film's unique approach to action. A Museum Tour with Sir Jonathan Wick - A hilarious guided tour of Rome's Museum of Modern Art, where the movie was shot. A highly cultured docent gives deep background for the paintings and sculptures in the room— which serve as the background for John's most insane rampage yet. Wick-vizzed - An amazing look into the blueprint of John Wick's action beats: 87Eleven's  backyard 'previz' of the action sequences for the movie.  This one-of-a-kind look at the movie's key action sequences features training pads, duct tape, blood splatters, rubber guns…and an insane amount of inventiveness. As Above So Below: The Underworld of John Wick - Explore the Assassin's Underworld inhabited by John Wick and his colleagues, from the Continental to the Camorra to the Bowery King. You'll never look at a panhandler the same again. Friends, Confidantes: The Keanu/Chad Partnership - An exploration of the long-standing partnership between action movie star Keanu Reeves and once stunt coordinator, now director, Chad Stahelski. Car Fu Ridealong - Saddle up with magician stunt driver Jeremy Frye and 2nd Unit Director Darrin Prescott as they take Keanu Reeves and fans alike for the ride of their lives! Chamber Check: Evolution Of A Fight Scene - Dissect the evolution of a John Wick Fight scene, concept to screen. Wick's Toolbox - Explore the bag of tricks that John Wick calls on in Chapter 2 - from bulletproof suiting to guns, guns, guns. Kill Count - The official John Wick 2 Kill Count. Trust no imitators. Theatrical Trailer - Watch the original theatrical trailer Dog Wick - John Wick from his dog's perspective
---
Legendary hitman John Wick is forced back out of retirement by a former associate plotting to seize control of a shadowy international assassins' guild. Bound by a blood oath to help him, John travels to Rome where he squares off against some of the world's deadliest killers.
---
---
Genres

Studios

Directors

Writer

Release date

2/10/2017
---
---