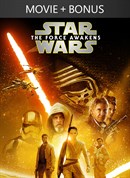 As a new threat to the galaxy rises, Rey, a desert scavenger, and Finn, an ex-stormtrooper, must join Han Solo and Chewbacca to search for the one hope of restoring peace. Experience the motion picture event of a generation in The Force Awakens.
Discover the complete story behind the making of The Force Awakens, revealed through in-depth footage and exclusive interviews with the actors and filmmakers in this feature-length documentary.

Cast members, familiar and new, reflect on the memorable day they all first came together to read the movie's script.

See how the filmmakers brought the newest droid to the screen, creating an instant fan favorite in the Star Wars universe.

Watch movie magic as the filmmakers bring a cast of new creatures to life.

Go deeper into the epic, climactic lightsaber battle between Rey and Kylo Ren.

The legendary composer shares personal insights into his work on Star Wars and The Force Awakens.

An insider's look into the remarkable digital artistry of the movie's visual effects.

Heroes come in all shapes and sizes. See how the Star Wars: Force for Change initiative has united Star Wars fans all over the globe in using the Force to help others.

Deleted Scenes: Finn and the Villager - As stormtroopers take over the village, Finn encounters a fleeing resident. Jakku Message - General Leia Organa receives grim news from the Resistance fighters. X-Wings Prepare for Lightspeed - Poe leads the Resistance fleet on a rescue mission to Takadona. Kylo Searches the Falcon - Kylo Ren boards Han Solo's abandoned ship and senses a presence. Snow Speeder Chase - Rey and Finn attempt to elude capture in a stolen Snow Speeder. Finn Will Be Fine - An anxious Rey watches as a doctor examines the wounded, unconscious Finn. Tunnel Standoff - Han Solo, Chewbacca and Finn struggle to escape from Maz Kanata's castle as the First Order forces attack.
---
Visionary director J.J. Abrams brings to life the motion picture event of a generation. As Kylo Ren and the sinister First Order rise from the ashes of the Empire, Luke Skywalker is missing when the galaxy needs him most. It's up to Rey, a desert scavenger, and Finn, a defecting stormtrooper, to join forces with Han Solo and Chewbacca in a desperate search for the one hope of restoring peace to the galaxy.
---
---
Genres

Studios

Director

Writers

Release date

3/31/2016

Subtitles

English

Audio

English

Supported devices

Purchase rights

When you buy a video, you can watch it now, or download the video to a compatible device and watch it later. Complete info about your viewing rights are in the Terms of Use.
---
---