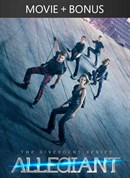 After the earth-shattering revelations of INSURGENT, in ALLEGIANT Tris [Shailene Woodley] must escape with Four [Theo James] beyond the wall that encircles Chicago to finally discover the shocking truth of what lies behind it.
The following bonus video contains the featurettes: Allegiant: Book To Film - Based on Veronica Roth's final novel, discover the many challenges in translating the book to film, including dividing the book into two parts and expanding the world beyond the wall. Battleattle in the Bullfrog - Deconstruct the bullfrog fight sequence, delving deeper into the story, stunts, and choreography that went into the creation of this thrilling scene. Finding the Future: Effects & Technology - From drones to plasma globes, discover the films most sophisticated tech and how production brought them to the big screen. Characters In Conflict - An in depth look at the film's antagonists - David, Evelyn, and Edgar - exploring the drive, conflict, and motivations behind their villainy. The Next Chapter: Cast & Characters - Sit down with the cast, both new and returning, as they discuss coming together to film the next chapter in the Divergent series. Building The Bureau - Take a tour of the Bureau, from the barracks and training room to the surveillance hub and spire.
---
In this exciting penultimate film in The Divergent Series, Tris (Shailene Woodley) and Four (Theo James) lead a team of rebels in a daring escape over the city wall—into a strange new world where they face a threat more dangerous than they ever imagined. Together, Tris and Four wage a furious battle for survival, fighting not only for their factions and loved ones, but for the future of an entire city in this dynamic, action-packed adventure.
---
---
Genres

Studios

Director

Writers

Release date

3/18/2016
---
---