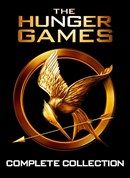 Get all 4 movies of THE HUNGER GAMES series! Includes THE HUNGER GAMES, THE HUNGER GAMES: CATCHING FIRE, THE HUNGER GAMES: MOCKINGJAY PART 1 & THE HUNGER GAMES: MOCKINGJAY PART 2.
---
Dive into the world of The Hunger Games: Mockingjay - Part 1 with hours of behind-the-scenes interviews as the cast and crew give an in-depth look at the making of the penultimate film.

A feature-length documentary providing an immersive look at the creation of the final film in The Hunger Games saga. Featuring dozens of in-depth, exclusive interviews with the cast and crew, this is the culminating behind the scenes chapter of the unforgettable cinematic vision of Suzanne Collins' magnificent story.

This bonus featurette includes the following clips: The Hunger Games: Mockingjay Part 2 Film Clip "STAR SQUAD" - Katniss is placed with her "star squad" which includes Gale (Hemsworth) and Finnick (Clafin) Picturing Panem (Never Before Seen!) - A Look at Panem Cinna's Sketchbook: Secrets Of The Mockingjay Armor - Costume Designers Kurt & Bart created not only the majestic Mockingjay battle armor for Katniss, but also a beautiful prop Cinna sketchbook used on film. Here, we present high-resolution pages from the sketchbook accompanied by insightful audio commentary that illuminates the artistry involved. Panem On Display: The Hunger Games: The Exhibition - Join Jennifer Lawrence and the cast for a sneak peek of The Hunger Games: The Exhibition as they experience this incredibly engaging curated mix of props, sets, costumes, holograms and interactive displays. This vast archive to explore includes almost 1,000 props and 46 costumes on loan from the film productions. The Hunger Games: A Photographic Journey - As the official on-set photographer for all four Hunger Games films, Murray Close was afforded a privileged view in which to document everything. In this revealing discussion with Murray, we will discover his unique perspective as witness to the extraordinary events captured by his lens.
---
Genres

Studios

Release date

11/30/2015

Subtitles

No subtitles

Audio

English

Supported devices

Purchase rights

When you buy a video, you can watch it now, or download the video to a compatible device and watch it later. Complete info about your viewing rights are in the Terms of Use.
---