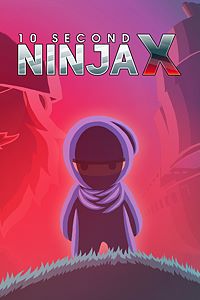 10 Second Ninja X
Published by

Curve Digital

Price

On sale information

Product distribution
Description
10 SECOND NINJA X is a blisteringly fast, overwhelmingly intense action game. The nefarious Captain Greatbeard has kidnapped you and trapped your forest friends inside of his army of robots like some kind of psychopath. Greatbeard doesn't think you're the fastest ninja who ever lived - he is WRONG. Destroy all of Greatbeard's robots in each level in ten seconds or less. Be fast enough to get the coveted three star rating in each. Fight through 100 levels, explore Greatbeard's airship, discover secrets, climb the leaderboards and show everyone what it means to be THE FASTEST, COOLEST, MOST FOCUS TEST APPROVED HERO EVER.
The greatest community of gamers
Xbox Live unites gamers across Xbox One, Windows, and mobile. Play and connect with friends, build your gaming legacy and take your games with you, everywhere you go.
Additional info
Published by
Curve Digital

Release date
2016-07-19T00:00:00.0000000Z
Approximate download size
414.11 MB
Installation
Install on your home Xbox One console plus have access when you're connected to your Microsoft account.


Sign in to report this game to Microsoft