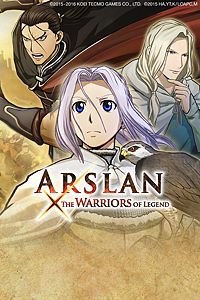 ARSLAN: THE WARRIORS OF LEGEND
KOEI TECMO AMERICA Corporation
Description
An exciting collaboration between The Heroic Legend of Arslan anime and the action-infused Warriors series! The exhilaration of plowing through large armies has been fused together with the charm and style of the world crafted in the anime. Experience the grand historical fantasy with ARSLAN: THE WARRIORS OF LEGEND! Shared visual style and talented voice actors help players relive the anime! Single-handedly scatter enemies, then wipe them out with special Rush units in this new form of Warriors action!
Available on
Capabilities
Online multiplayer (2)
Online co-op
Local multiplayer (2)
Local co-op
Additional info
Published by
KOEI TECMO AMERICA Corporation

Release date
2016-02-09T00:00:00.0000000Z
Approximate download size
15.79 GB
In-app purchases
$1.99 - $20.99
Installation
Install on your home Xbox One console plus have access when you're connected to your Microsoft account.
Report this product
Sign in to report this game to Microsoft