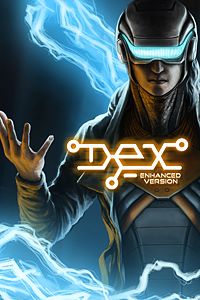 Dex
Published by

BadLand Games

Price

On sale information

Product distribution
Description
Discover the truth behind an enigmatic AI striving to reach the Singularity, a theoretical "event horizon" in which artificial intelligence will surpass human intelligence and all bets about the future will be off. How will you play your part in the story? Explore the futuristic city of Harbor Prime and meet its many inhabitants, answer the challenges the city has to offer, roam the neon-lit streets, and augment your character with skills and implants. Designed as a tribute to the classic RPGs from the '90s, updated for a modern audience, Dex invites you to become part of a living, breathing cyberpunk universe as you decide which ultimate path you will embrace.
The greatest community of gamers
Xbox Live unites gamers across Xbox One, Windows, and mobile. Play and connect with friends, build your gaming legacy and take your games with you, everywhere you go.
Additional info
Published by
BadLand Games

Release date
2016-07-08T00:00:00.0000000Z
Approximate download size
3.42 GB
Installation
Install on your home Xbox One console plus have access when you're connected to your Microsoft account.


Sign in to report this game to Microsoft