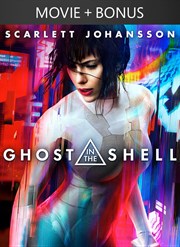 Ghost In The Shell + Bonus
Description
Scarlett Johansson stars in the visually stunning Ghost in the Shell, an action-packed adventure set in a future world where people are enhanced with technology. Believing she was rescued from near death, Major (Johansson) becomes the first of her kind: a human mind inside an artificial body designed to fight the war against cyber-crime. While investigating a dangerous criminal, Major makes a shocking discovery – the corporation that created her lied about her past life in order to control her. Unsure what to believe, Major will stop at nothing to unravel the mystery of her true identity and exact revenge against the corporation she was built to serve.
Bonus content
3/31/2017
2 min
Creating the Shell
Rolling Stone
3/31/2017 by David Fear
'All shell, no ghost' is a low-hanging-fruit diss. It's also apt.
Full review
Boston Globe
3/30/2017 by Peter Keough
Do people even have selves? Are identities and souls just a bunch of clichés spun out by teams of screenwriters? If these questions interest you, do yourself a favor and watch the 1995 original movie.
Full review
AV Club
3/30/2017 by Ignatiy Vishnevetsky
Johansson's Kubrickian performance and the technical precision of the camera make its artifice seem almost haunting.
Full review
Additional info
Genres
Action/Adventure
Drama
Sci-Fi/Fantasy

Writers
Bill Wheeler
Jamie Moss
Ehren Kruger
Shirow Masamune

Size
6.01 GB (1080p HD)
3.15 GB (720p HD)
1.78 GB (SD)

Supported devices
Xbox
Windows 8 or later