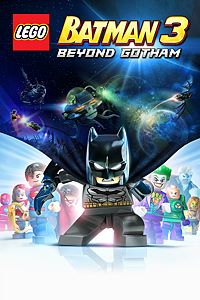 LEGO® Batman™ 3: Beyond Gotham
Published by

Warner Brothers Interactive

Price

On sale information

Product distribution
Description
The Caped Crusader joins forces with the super heroes of the DC Comics universe and blasts off to outer space to stop the evil Brainiac from destroying Earth. Using the power of the Lantern Rings, Brainiac shrinks worlds to add to his twisted collection of miniature cities from across the universe. Now the greatest super heroes and the most cunning villains must unite and journey to different Lantern Worlds to collect the Lantern Rings and stop Brainiac before it's too late. The downloadable version of this game supports English, French, Italian, German, Spanish, Danish, Dutch, Polish, Portuguese, Russian.
Available on
Capabilities
Local multiplayer - 2 players
Local co-op
Additional info
Published by
Warner Brothers Interactive

Release date
2014-11-11T00:00:00.0000000Z
Approximate download size
7.33 GB
In-app purchases
Free - $2.99
Installation
Install on your home Xbox One console plus have access when you're connected to your Microsoft account.


Sign in to report this game to Microsoft