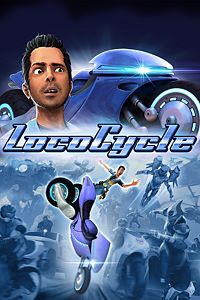 LocoCycle
Published by

Microsoft Studios

Price

On sale information

Product distribution
Description
Newly self-aware, I.R.I.S. the martial-arts wielding assassin motorcycle, has begun a cross-continent escape to freedom. I.R.I.S.'s only ally is her engineer Pablo, who gets conscripted into the quest after his pant leg gets caught in her chassis. Hunted by the psychopathic motorcycle S.P.I.K.E. and a multinational weapons cartel, I.R.I.S. and Pablo face long odds, but they are riding for 'Murica and freedom - so how can they lose? The downloadable version of this game supports English, French, Italian, German, Spanish, Portuguese.
Additional info
Published by
Microsoft Studios

Release date
2013-11-22T00:00:00.0000000Z
Approximate download size
13.21 GB
Installation
Install on your home Xbox One console plus have access when you're connected to your Microsoft account.


Sign in to report this game to Microsoft