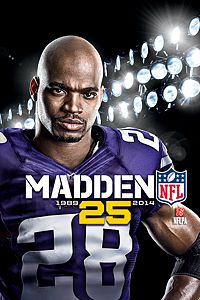 Madden NFL 25
Published by

Electronic Arts

Price

On sale information

Product distribution
Description
The downloadable version of this game supports English Powered by EA SPORTS IGNITE, Madden NFL 25 ushers in the next generation of sports games delivering 10x more detail and unprecedented control.  Players think and anticipate in the trenches and across the field. Every step is calculated to showcase the most realistic player movement ever, and the emotion of Sunday is brought to life like never before with living sidelines, rich commentary, and thunderous crowds.  Madden NFL 25 changes the game forever.
Available on
Capabilities
Multiplayer Online- 2 to 6 players
Multiplayer Local- 4 players
Co-op Local
Additional info
Published by
Electronic Arts

Release date
2013-11-22T00:00:00.0000000Z
Approximate download size
12.52 GB
Installation
Install on your home Xbox One console plus have access when you're connected to your Microsoft account.


Sign in to report this game to Microsoft