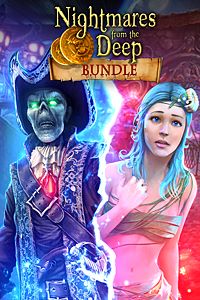 Nightmares from the Deep Bundle
Artifex Mundi
Description
Embark on a thrilling adventure in the best-selling pirate series! Begin a fantastic journey into the mysterious world of cursed treasures, dark magic and ghostly ships. Investigate clues, solve riddles and track down the frightening Captain Remington and his undead crew to save your daughter. Visit the forgotten fishing town filled with scary Lovecraftian creatures. Help the benevolent mermaid Calliope to confront Murray, the town's mayor, and defeat his terrifying pet Kraken from the deep!
Additional info
Published by
Artifex Mundi

Release date
2016-12-09T00:00:00.0000000Z
Installation
Install on your home Xbox One console plus have access when you're connected to your Microsoft account.
Report this product
Sign in to report this game to Microsoft