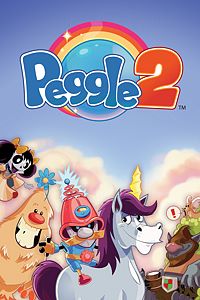 Peggle 2
Published by

Electronic Arts

Price

On sale information

Product distribution
Description
Peggle 2 is a magical game full of bouncing balls, magical pegs and bricks made of pure compressed joy! Test your luck and skill by clearing pegs, bashing bricks and timing your shots just right to achieve EXTREME FEVER! Discover 5 magical Peggle Masters and use their preposterous powers over 120 levels and trials to shatter expectations and acquire high scores beyond the realm of plausibility ! And then, once you've honed your talents, deploy them against others in 4-player Peg party mode, or against a single opponent in Duel mode.
Available on
Capabilities
Online multiplayer - 2 to 4 players
Additional info
Published by
Electronic Arts

Release date
2013-12-09T00:00:00.0000000Z
Approximate download size
2.55 GB
In-app purchases
$0.99 - $1.99
Installation
Install on your home Xbox One console plus have access when you're connected to your Microsoft account.


Sign in to report this game to Microsoft