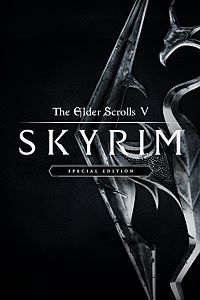 The Elder Scrolls V: Skyrim Special Edition
Published by

Bethesda Softworks

Price

On sale information

Sale information

Product distribution
Screenshots
Enter your date of birth
Content not intended for all audiences. Please verify your age.
You must be old enough to view images and videos.
Description
Winner of more than 200 Game of the Year Awards, Skyrim Special Edition brings the epic fantasy to life in stunning detail. The Special Edition includes the critically acclaimed game and add-ons with all-new features like remastered art and effects, volumetric god rays, dynamic depth of field, screen-space reflections, and more. Skyrim Special Edition also brings the power of mods to consoles. New quests, environments, characters, dialogue, armor, weapons and more – with Mods, there are no limits to what you can experience.
Additional info
Published by
Bethesda Softworks

Approximate download size
15.4 GB
Installation
Install on your home Xbox One console plus have access when you're connected to your Microsoft account.


Sign in to report this game to Microsoft