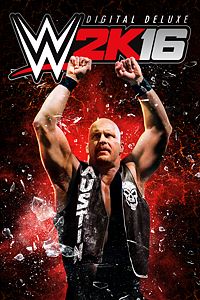 WWE 2K16 Digital Deluxe Edition
Published by

2K

Price

On sale information

Product distribution
Description
Get in the ring and Raise Some Hell with WWE 2K16!  The undisputed champion of wrestling games returns with the biggest roster in WWE games history and the "Texas Rattlesnake" Stone Cold Steve Austin as its Cover Superstar!  Play as your favorite Superstars from the past, present and future and experience the most authentic, comprehensive, in-your-face WWE video game of all-time! The Digital Deluxe Edition includes both the WWE 2K16 Season Pass & the all new MyPlayer Kick Start. With Season Pass you gain access to even more action featuring additional characters, extra moves, and customization!
Available on
Capabilities
Online multiplayer- 2 to 6 players
Local co-op
Local multiplayer- 6 players
Online co-op
Additional info
Release date
2015-10-27T00:00:00.0000000Z
In-app purchases
$1.99 - $24.99
Installation
Install on your home Xbox One console plus have access when you're connected to your Microsoft account.


Sign in to report this game to Microsoft