E E ight months into the pandemic, Microsoft Teams and Modern Work leader Jared Spataro was thinking about his son. The younger Spataro had recently started working for a new company. What struck Jared was that his son had been doing the job for months without ever visiting the company's headquarters—or any office. In fact, he may never end up working in a company office at all as many businesses decide to stick with the remote-first model spurred by COVID-19. ight months into the pandemic, Microsoft Teams and Modern Work leader Jared Spataro was thinking about his son. The younger Spataro had recently started working for a new company. What struck Jared was that his son had been doing the job for months without ever visiting the company's headquarters—or any office. In fact, he may never end up working in a company office at all as many businesses decide to stick with the remote-first model spurred by COVID-19.
Jared has spent the past year helping many of the world's largest organizations think about and adapt to the new realities of work during the pandemic. And what he's seen is that his son's experience is hardly unique. Within a few weeks in early 2020, most knowledge workers found themselves suddenly transformed into the world's first-ever all-remote workforce. Nearly a year later, that workforce seems unlikely to revert to its old ways anytime soon, if ever. At the same time, the need to infuse frontline work with digital tools for communication, learning, and information sharing has never been more visibly acute.
These transitions raise crucial questions, and not just for new hires: Absent a physical presence, how does a company create a sense of working for that company—a feeling of culture, mission, and connection? What creates and defines the employee experience in the age of digital-first work? According to Jared Spataro and others, the time has come to acknowledge a fundamental truth: For so many people, the "place" where work happens—today and here on out—is the internet. The digital experience of working for a company is the employee experience.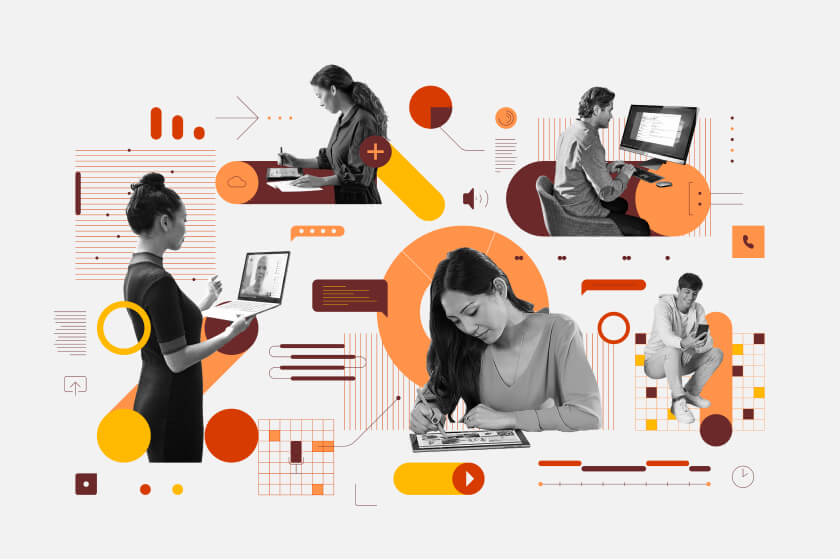 "Why is rethinking the employee experience important? Because you're going to have a totally different operating model," Spataro says. "Work is no longer just a place. It's what people do, no matter where they are and how they come together to get the job done."
Knowing this, Microsoft believes it's time for a more holistic approach to digital work—an approach that doesn't just make up for ways of working lost to the pandemic but creates better ways for a post-pandemic future. It's time for EXP.
A better experience
The pandemic has made the need for an employee experience platform (or EXP) more urgent than ever. When workers stopped gathering in offices, it became clear just how heavily organizations relied on their physical spaces as the default means of conveying culture and sharing knowledge. They're where teams built connections and individuals blazed their career paths. These practices were neither systematized nor scrutinized. They were just "how things were done."
When employees dispersed to their homes, companies largely fell back on stop-gap simulations of the in-person employee experience, while work became even more scattered across an array of digital platforms, many of which didn't talk to one another. Everything from recruiting and onboarding to retention and career development were handled via ad hoc digital substitutes, if they were handled at all. Physical workplaces were also where coworkers looked after one another's well-being. In person, it was easy to see when someone was struggling or exhausted. When everyone is working from home, the signals are harder to spot.
Organizations have labored to overcome their reliance on physical space because so many workplace practices are still rooted in pre-digital assumptions. In the mid-20th century, as the modern corporation rose to dominance, one management value trumped all others: visibility—at least for those in the executive suite. In the rigidly hierarchical structure of these mostly non-digital organizations, information flowed up the chain of command to a few key leaders who needed a complete view of every person, resource, and process. From that vantage, those leaders made decisions that would travel back down the chain, slotting workers into specific, strictly defined roles.
Absent a physical presence, how does a company create a sense of culture and connection?
Information doesn't travel that way in knowledge-driven organizations anymore. The internet broke open those silos, at least in theory. But too many companies still run on pre-digital practices embedded in excessive hierarchies. In offices, knowledge and connections still very much flow in person—officially via meetings and unofficially via the day-to-day chats that make up so much of office life. While we all miss those face-to-face interactions, they also came with a lot of unexamined assumptions about the ways work gets done.
Microsoft built its EXP, Viva, to reflect a core belief that the foundation of the employee experience should be helping every employee do and be their best. Viva is the next step in centralizing the employee experience—a system of shared understanding and connection that ensures everyone's in sync about what they know, what they're doing, and why they're doing it. The goal is to help keep teams from getting mired in the incessant back-and-forths of top-down approvals. Instead, they should self-organize to solve problems both small and large. Employees gain autonomy without losing the sense of shared purpose.
"Our goal is for people plus AI to work together, providing you knowledge in context within the flow of your work," says Naomi Moneypenny, director of product development for Topics, Microsoft Viva's AI-powered knowledge engine.
The elements of EXP
To see how this works in practice, it's important to understand the serious limitations of the conventional view of company culture. Against that backdrop, you can see just how big the opportunity is to make the employee experience better.
Imagine you're a recent college graduate, and you've just started a job at a company that makes personal protective equipment for hospitals. You don't have direct experience with PPE, but your new boss—whom you've met only over video because you work remotely—says your math skills will make you an asset to the supply chain team. On your first day, you roll out of bed, put on the company T-shirt you received in the mail, and log in.
You think to yourself, "I'd better learn how we make masks." (You'd better remember to sign up for benefits, too.)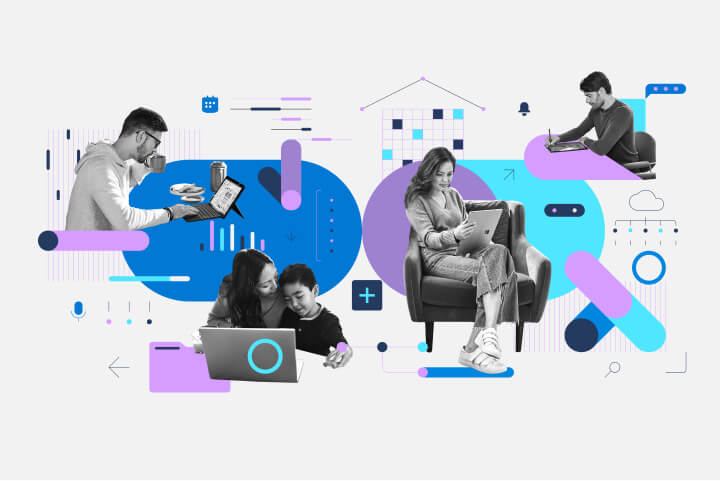 But where do you begin? In the past, you might have had a full onboarding orientation, with days of in-person meetings, walk-throughs, and lunches to help you find your way. Now all you have are a chat app, a bunch of cloud platforms that don't seem to fit together, and a nest of poorly labeled file folders, half of which you can't access. As far as employee experiences go, you're starting to think about grad school.
Unless your company has invested in EXP. Behind the scenes, AI systems are processing everything from sales decks to meeting agendas to invoices to create Wikipedia-style "rough cuts" of everything your company knows and does, from topics and concepts to people and workflows. In Teams, you get a message from a new coworker with a mask-making acronym you don't know. You hover over it, and a card appears to tell you what it means. An Outlook email from HR about open enrollment triggers another card that lets you dig into your health insurance options. An assignment from your new boss has you thinking, "Where do I start?" until another card appears with a roster of suggested colleagues who could help, all tied to their LinkedIn profiles.
In essence, an effective EXP surfaces the right information and connections to the right person—and puts these at people's fingertips, right in the flow of work. It pulls together the once-disparate parts of the digital employee experience, which fall into one of four categories:
Insight: Employee burnout has surged during the pandemic. Viva Insights uses data to help employees protect their valuable time, whether it's to focus deeply on a single task or on themselves and their families. Managers can keep better track of their connections to their teams, and decision-makers can identify trends to help them respond in a fast-changing environment. "It's never been more important to help people unplug and make the most of their most valuable resource, their time," Spataro says.
Knowledge: Businesses have long struggled to know what they know. EXP helps unlock the knowledge that may otherwise stay stuck in people's heads, especially when everyone is working remotely. EXP automates the knowledge-gathering process that employees don't have time for, because they're busy doing the work. "Knowledge should be invisible but available," Moneypenny says.
Learning: In an economy and society undergoing rapid change, job expectations and expertise are constantly evolving. But most employees don't have time to take a week away from work to attend an in-person training class. A recent report from LinkedIn found that 94 percent of employees would stay at a company longer if it invested in their learning and development. EXP reorients organizations' approach to career development around "just-in-time learning." "We expect the tools to say, It looks like you're searching for 2020 census data. Let's help you figure out how to read that data," Spataro says, offering one example. The new knowledge you need should find you.
Connection: The experience of working for an organization doesn't only involve the rational part of the brain. We're all driven by emotions, and EXP strives to establish the digital feel of an organization. Especially without a physical office to help transmit values and vibe, companies need a digital experience that feels immersive and distinctive, from the way you organize a town hall for 100,000 workers to an online celebration for a single employee's anniversary. When employees log in for the first time or the 3,000th, they should feel like they belong.
The 'place' where work happens —today and here on out—is the internet.
Ultimately, it's the loss of physical spaces that has made fostering that sense of belonging so challenging. But the need for EXP won't fade even as the pandemic recedes.
"It used to be: Let's put a lot of desks together, give them a great coffee machine, a great chef, and people will be happy. It's a lot more complicated than that now," says HR consultant and educator Josh Bersin. "There's a lot of reengineering of the workplace going on at a granular level."
Digital-first ways of working aren't going to go away once offices become accessible again, because the advantages they enable aren't location dependent. A shared understanding means employees have more time and motivation to solve valuable problems. A shared sense of mission and culture means they'll not only achieve their best but feel satisfaction as they do. A feeling of connection, made possible by the better flow of information, will inspire and spur action. Yes, it will be great to share happy hours and foosball tournaments with coworkers again. But the best employee experience is one where everyone feels like they're working side by side, at their best, no matter where they are.