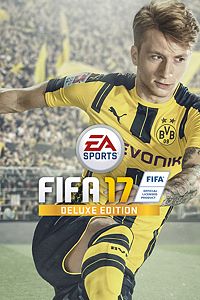 EA SPORTS™ FIFA 17 Deluxe Edition
Published by

Electronic Arts

Price

On sale information

Product distribution
Description
Get FIFA 17 Deluxe Edition, and you'll receive 3000 FIFA Points and one FIFA Ultimate Team Legends player on-loan for 3 matches! Powered by Frostbite, FIFA 17 transforms the way you play, compete, and emotionally connect with the game. FIFA 17 immerses you in authentic football experiences by leveraging the sophistication of a new game engine, while introducing you to football players full of depth and emotion, and taking you to brand new worlds accessible only in the game. Complete innovation in the way players think and move, physically interact with opponents, and execute in attack lets you own every moment on the pitch.
Available on
Capabilities
Multiplayer Online- 2 to 22 players
Co-op Local
Multiplayer Local- 4 players
Co-op Online
Additional info
Published by
Electronic Arts

Release date
2016-10-11T00:00:00.0000000Z
Installation
Install on your home Xbox One console plus have access when you're connected to your Microsoft account.


Sign in to report this game to Microsoft